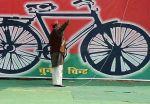 On the eve of Samajwadi Party completing one year in office in Uttar Pradesh, all its office bearers were asked by the party to hold 'grand events' and highlight achievements of the government at all district headquarters on Friday.
"All the office bearers have been asked to hold programmes at district headquarters on completion of one year of Akhilesh Yadav government," SP spokesman Rajendra Chowdhury said.
In these programmes the partymen have been asked to hold detailed discussions on achievements of the party in one year and distribute pamphlets among people and ensure that it reaches at the village level, Chowdhury said.
District and city presidents have been asked to organize "grand events" so that MLAs and ministers could also participate in it, he added.
In his message, Chief Minister and Samajwadi Party president Akhilesh Yadav said that despite poor economic condition due to the five year "misrule" of BSP, SP government tried to fulfill most of the promises it made in party manifesto.
"We are trying to fulfil promises made in party manifesto. A number of them have already been fulfilled. Now it's up to you (party workers) and party organisation to propagate good work of the government at the grass-root level," Akhilesh said.
In Lucknow, Akhilesh will be holding a press conference followed by a get-together in which he will meet party workers at his official residence, Director Information, Prabhat Mittal said.