As many as 39 business giants from the United States arrived in Lucknow on Wednesday to assure Uttar Pradesh Chief Minister Akhilesh Yadav that they have serious plans of pumping investments in the country's most populous state.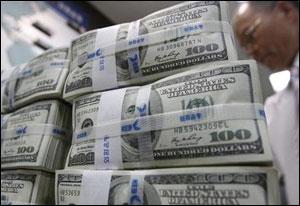 "The advent of a young and dynamic chief minister like Akhilesh Yadav has paved way for building a new and conducive investment climate in this state and that is the reason such a large contingent of investors have come all the way from different parts of the US," Ron Somers, US India Business Council (USIBC) president told a press conference addressed jointly with the chief minister in Lucknow.
"Never before have so many top executives of different US companies converged here; and this is the outcome of a summit that was organised by the UP chief minister in Agra not very long ago," he pointed out. "The UP chief minister reached out to USIBC a year ago seeking American investment in the state and today we have an array of some of America's finest companies being represented here," he added.
Highlighting the fact that the average age of 50 per cent of the UP population was just about 25, he went on to add, "time is just ripe to generate employment, which will follow naturally with appropriate investments."
The press conference was preceded by an interaction between the USIBC delegation and representatives of the state government.
Earlier, USIBC chairman Ajay Banga, who is the international head of Master Card, said, "We are aware of the aspirations of the entire population of Uttar Pradesh."
However when his attention was drawn to the Akhilesh Yadav government's stiff stand against FDI in retail , he was evasive. "I do not think we can draw conclusions on the basis of government's policy on a particular issue, that does not mean that the government is averse to investments and therefore we need to have an open mind and I am confident of receiving all cooperation from the government."
The inaugural session was followed by five panel discussions broadly covering infrastructure development, food processing and agri-marketing, high-tech manufacturing, skill development and the role of IT in the new knowledge economy and health infrastructure - the areas in which the visiting delegation sees potential for investment.
Earlier, while welcoming the US delegation "to explore opportunities and to become partners in UP's growth journey," Chief Minister Akhilesh Yadav observed, "What India is to the world, Uttar Pradesh is to India. If India is the largest democracy, UP is the world's largest sub-national democracy. And our doors are wide open to the American business fraternity."
Prominent among those who were part of the delegation included Accenture MD Sanjeev Kumar Gupta, American Express president Sanjay Rishi, Cargill CEO Siraj Chaudhary, Thomson Reuters MD Swarup Choudhary , Pepsico vice president (global public policy) Charles Freeman , Oracle vice president Joseph H. Alhadeff, Honewell senior vice president Richard W. Graber, Merck Research Labs head Meeta Chatterjee, Ingersoll Rand chairman Venkatesh Valluri. and DLA Piper partner William P.Cook.