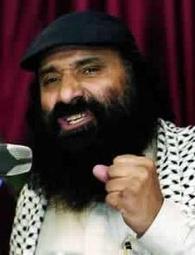 For the first time, the National Investigation Agency will be sending a judicial request to Pakistan for the arrest of Hizbul Mujahideen chief Syed Salahuddin, declared a proclaimed offender and chargesheeted by the agency for allegedly pumping money into Jammu and Kashmir for terror activities.
NIA sources said that permission from the government had been received to send a Letters Rogatory to Pakistan asking the authorities to arrest Salahuddin, who has taken shelter in the neighbouring country since 1989, and seven others named as proclaimed offenders in the chargesheet filed on Saturday.
The NIA chargesheet showed that Rs 13 crore had been pumped into the Kashmir Valley for Jammu and Kashmir Affectees Relief Trust, an organisation used by the Hizbul Mujahideen to finance terror activities in the state.
During the investigation, the flow of funds raised and distributed by the terror outfit was established and different channels used to send funds to the state by the Hizbul Mujahideen like hawala, banking network, cross border trade etc were investigated.
The NIA said that the probe had found that the accused Mohd Shafi Shah alias Dawood had allegedly collected amount to the tune of Rs 13 crore and distributed it for carrying out terrorist activities at the behest of the Hizbul Mujahideen.
The others named in the chargesheet include Salahuddin's deputy Gulam Nabi Khan alias Amir Khan, Umer Farooq Shera alias Mehboob-ul-Haq, Manzoor Ahmed Dar alias Masroor Dar, Zaffar Hussain Bhat alias Khursheed, Nazir Ahamd Dar alias Shabir Ellahi, Abdul Majeed Sofi alias Majeed Bisati and Mubarak Shah. They have been charged with various provisions of Unlawful Activities (Prevention) Act.
In a meticulously done probe, the NIA claimed to have unearthed at least Rs 13 crore which had been pumped through cross border trade at Uri, cash couriers and normal banking channels besides the routine hawala route.
The case was registered by the NIA on October 25, 2011 for alleged regular and systematic funding of the Hizbul Mujahideen for carrying out terrorist activities.
Investigation has established that under the cover of JKART, Hizbul operatives based in Pakistan used to provide funds through different channels for terrorist activities in India. During the investigation, two of the accused -- Mohd Shafi Shah alias Dawood and Talib Lali alias Talib Hussain Lali -- were arrested by the NIA.

Image: Hizbul Mujahideen chief Syed Salahuddin