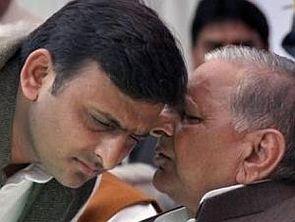 The Congress may not give a walkover to Samajwadi Party President Mulayam Singh Yadav and his chief minister son Akhilesh Yadav in their respective constituencies at the 2014 Lok Sabha elections.
Uttar Pradesh Congress President Nirmal Khattri proposed to urge the party high command to give up its old stand of not fielding any candidate against Mulayam in Mainpuri or against Akhilesh in Kannauj. This followed a meeting of Congress workers from several constituencies in Central UP of which the Yadav home Etawah, and their strongholds Mainpuri and Kannauj were part.
The UP Congress chief said, "Our party workers from Mainpuri, Etawah and Kannauj have insisted that that the Congress party must field its candidates in each of these places that were left uncontested at the last 2009 Lok Sabha election " He added, "Active participation in the election would not only activate the party workers in those areas but also give the party a better profile."

Khattri proposes to convey the sentiments of the party workers from that region to the party high command, which will take a final call on the issue.

Under an unwritten reciprocal arrangement, just as the Congress had decided to leave the traditional seats of Mulayam and Akhilesh uncontested, likewise Samajwadi Party had kept away from the electoral turf at Sonia Gandhi's Rae Bareli and Rahul Gandhi's Amethi parliamentary constituencies.