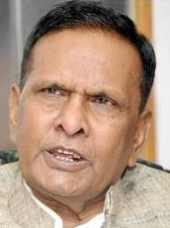 A day after being reprimanded, Union Steel Minister Beni Prasad Verma on Thursday said he felt "humiliated" and threatened to quit the Congress if he was stopped from "fighting" against Samajwadi Party chief Mulayam Singh Yadav.
He belied the claim of All India Congress Committee in-charge of Uttar Pradesh, Madhusudan Mistry, that he had expressed regret and promised not to speak against Yadav again as he attacked the SP supreme once more, alleging that he had "connived" with BJP in the run up to the Babri Masjid demolition.
"My effigies were burnt yesterday. After the statements which have been published in newspapers today, I felt humiliated," Verma told a group of mediapersons.
"I am not in politics for chair or to become a minister. I believe in values...I can quit Congress any time or it can remove me...I can tender my resignation if Congress becomes an obstacle in my fight with Yadav," he added.
Verma's statement came a day after Mistry reprimanded him for his remarks that SP chief should "first try to get the job of a sweeper at the residence of the PM if he is nursing ambitions of becoming the prime minister.
In an apparent attack on Mistry, Verma said there are "multiple centres of power" in the Congress. "There is no harm if there were even 10 centres of power but these should be just with an upright intention unlike Uttar Pradesh where various centres of power are indulging in loot and corruption."
He said he felt "so humiliated" that he has sought time to meet Congress President Sonia Gandhi on the issue. At the same time, Verma praised Sonia and vice president Rahul Gandhi. "The Congress is my choice only because its leadership is fair. I like the kind of politics being played by Sonia. The country's future is safe in Rahul's hands. It is my belief," he said.
The senior leader from Uttar Pradesh said he still felt that there is no other party than Congress in the country which can rule this multi-lingual nation. He said he will not contest elections against the Congress even if he quits the party.
"I will contest Lok Sabha elections on my own if I quit. But I will not oppose Congress," he added. Hitting at his friend-turned-foe Yadav, Verma said he will "never ever shake hands" with the SP chief.
Alleging Yadav's "connivance" with the Bharatiya Janata Party in the run up to Babri Masjid demolition, he said a probe should be initiated into the incidents of October 30, 1990.
He alleged that BJP leader LK Advani had started a rath yatra stating that 'shilanyas' was to be performed at the disputed structure on October 30, 1990 while the "intention" was to demolish the disputed structure in connivance with the then chief minister (Yadav).
Referring to the police firing in Ayodhya in November 1990 when Yadav was the chief minister, Verma said it was unnecessary. He claimed that Yadav later visited the guest house where Advani was under detention. At the meeting, he claimed, it was decided that karsewaks would be permitted to perform darshan (at the disputed site).