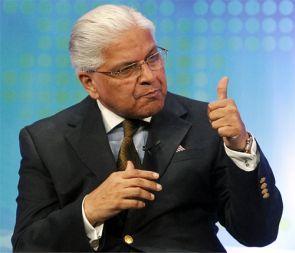 Law Minister Ashwani Kumar, who is under attack over vetting of a Central Bureau of Investigation probe report on coal blocks allocation scam, on Thursday went to the Prime Minister's Office, triggering speculation that he met Manmohan Singh but he denied it.
Meanwhile, Attorney General G E Vahanvati met the Prime minister and briefed him on Wednesday's proceedings of the Supreme Court in the coal issue. Kumar was inside South Block, the office of the prime minister, for about 30 minutes.
This led to speculation that he had met Singh to discuss the critical observations made by the Supreme Court over the vetting of CBI report on coal block allocation.
However, when confronted later, Kumar said, "I did not meet the prime minister."
It was later known that the Prime Minister was then at Rashtrapati Bhawan for a meeting with President Pranab Mukherjee.
Sources said Kumar met officials in the PMO to discuss the situation arising out of the Supreme Court's observations. The apex court had made a reference to the law minister's role in vetting the probe report and asked, "Does it not subvert the integrity of the investigation if changes are brought in status report on the suggestion of law minister and government officers."
However, this apart, there were no strong observations against Kumar, who is struggling to retain his position in the Cabinet, with the opposition demanding that he resign for vetting the CBI report.
The apex court had yesterday pulled up the CBI, the PMO and the coal ministry officials for changing the "heart" of the coal scam probe report.