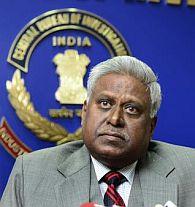 Criticised by the Supreme Court as a "caged parrot" of its masters, CBI Director Ranjit Sinha on Thursday said whatever the Apex court stated was correct.
Asked about the scathing remarks of the Supreme Court which had said that CBI was a "caged parrot" that "speaks in its master's voice", Sinha told reporters here, "Whatever the Supreme Court said is correct."
The court had come down heavily on CBI on Wednesday for sharing the status report on coal allocation scam probe with Law Minister Ashwani Kumar and officials of PMO and coal ministry.
CBI had then issued a statement, saying, "CBI assures the Supreme Court of thorough and qualitative investigation into Coalgate. It will follow directions of Supreme Court in letter and spirit."