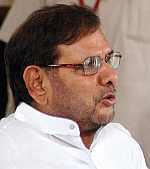 Changing his earlier stance, Janata Dal-United President Sharad Yadav on Thursday asked Union Minister P K Bansal to tender his resignation over the railway bribery case involving his nephew as the opposition protests grew louder against the minister's continuation.
Yadav also hit out at the government for not taking any action against Law Minister Ashwani Kumar, who is in the eye of a storm for vetting the Central Bureau of Investigation's draft report on coal-gate, and asked the prime minister "whom do you want to save?"
The course correction on Bansal came a couple of days after Bihar Chief Minister Nitish Kumar described the earlier statement of Yadav, virtually absolving the Congress leader of any fault in the bribery case as his "personal" viewpoint.
"Whatever I had said about Bansal was based on the information available with me by then and because of what I have known about him so far. But now the kind of reports that are coming in about his relatives being arrested, I feel why should he allow his further condemnation. Bansal should resign," Yadav told mediapersons.
At the same time, Yadav maintained that he was not saying that all allegations against Bansal in the public domain are true but added, "I am advising him as a friend, why he is receiving more flak (by continuing as minister). He should resign."
On Saturday last, Yadav had said, "If any relative of a political leader is involved in corruption then what is the fault of that leader. I have known Pawan Bansal for a long time. He has been in Parliament for a long time. What has he to do with anything if his nephew is taking bribe."
Asked whether Bansal should resign, Yadav had then said, "How do you plan to run this country then. As a political leader Bansal must be meeting a lot of people, can he check the credentials of everyone."
The government and Congress have repeatedly cited Yadav's statement to defend Bansal, while the Bharatiya Janata Parr, which sought it to make a big issue, found itself in an embarrassing situation over Yadav's remarks.
After a meeting of the Congress Core Group, Information and Broadcasting Minister Manish Tewari had on Sunday quoted Yadav's defence of Bansal to make an attack on the BJP saying, "resignation does not augur well for democracy".
Nitish Kumar had, however, contended that it was a personal viewpoint of Yadav and that the railway bribery case was shocking.
In a release, Yadav today echoed Kumar's views and alleged that "Bansal's relatives have become millionaires and their businesses have been multiplied many times" in a short span of 10 years.
Yadav also flayed the government for not taking any action against the law minister.
"Ashwani Kumar should have resigned till at least he comes clean by the Supreme Court. This one is an open and shut case...In my opinion, he should resign immediately instead of waiting till July to hear the verdict of the Supreme Court," he said.
Charging that the CBI report on coal-scam was "diluted" and toned down as as per the wish of political executives, Yadav said that the action has proved that the CBI is a "tool" in the hands of the government to take revenge against its political opponents.
"The Supreme Court had earlier said that the draft is not to be shared with anybody but the law minister called the CBI. Even the officers of coal ministry attended the meeting and later the Supreme Court said that the heart of the report was changed.
"The report was changed. The nation is not ready to carry the burden of their wrongdoing. They have allocated coal blocks in the manner movie tickets are sold," he said.
Castigating Congress for "forgetting all ethics and morality", the JD-U president rued, "In most of the cases, the ministers of the present government are not resigning even after their names emerged in various scams" and cited the resignations by several ministers on smaller charges in past.
Maintaining that he was completely disappointed with the functioning of Government as the Comptroller and Auditor General has "exposed scams of almost 5.5 lakh crore" so far, Yadav said, "The opposition is left with no alternative but to halt Parliament's functioning."