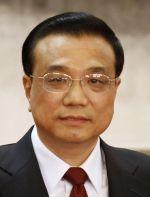 Amid a series of territorial disputes with its neighbours, China's new leadership took reigns of power, asserting that they have "unshakable commitment" to safeguard the country's sovereignty without seeking "hegemony" against others.
Addressing his first press conference here after taking over as Premier, Li Keqiang sought to ally concerns about the slow growth of China's economy as well as apprehensions about China's rise as a global power.
Stating that both the concerns are unnecessary, he said China is capable of achieving sustainable and healthy economic development and pursuing social progress.
"There are 1.3 billion people in this country, so we are on a long journey to modernisation. For that we would require an international environment of lasting peace," said 57-year-old Li, who succeeded Wen Jiabao on Friday.
"Even if China becomes stronger we will not seek hegemony because we have learnt from our own bitter experience in the modern period that one should not impose on others he himself does not desire. It is an article of faith for us," he said.
"Let me underscore here China has an unwavering commitment to peaceful development. We also have unshakable commitment to safeguard our country's sovereignty and territorial integrity," he said, without directly referring to China's disputes with Japan over islands and differences with various South East Asian nations on the South China Sea.
China and India also have a territorial dispute and the two sides have held 15 rounds of talks to resolve it.
Li argued that China's wish to assert its sovereignty and peaceful rise are not contradictory.
"These two are not contradictory to each other in fact they are essential for regional stability and world peace. China will shoulder our due international obligations as a large developing country. We are willing to work with the countries of the world to maintain global peace and prosperity in the 21st century," he said.
Earlier, newly elected President Xi Jinping called on the ruling Communist Party and people to rise up to realise the "Chinese dream".
"We must make persistent efforts, press ahead with indomitable will, continue to push forward the great cause of socialism with Chinese characteristics, and strive to achieve the Chinese dream of great rejuvenation of the Chinese nation," Xi said.