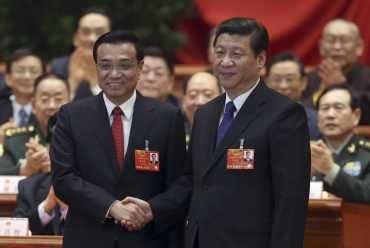 Any expectation that the new leadership -- newly appointed President Xi Jinping and Premier Li Keqiang -- would take China on the road to a more liberal society would be premature, writes senior analyst B Raman.
China's new state leadership was formally installed in office at the 12th National People's Congress, which concluded in Beijing after a fortnight's session on Saturday.
As expected, Xi Jinping, who had taken over as the general secretary of the Communist Party of China and chairman of the Central Military Commission of the party at the 18th Party Congress in November last, took over from Hu Jintao as the president and the chairman of the state CMC on Thursday.
Li Keqiang took over as the prime minister from Wen Jiabao the next day. In their personal qualities, the two leaders are a sharp contrast to Hu and Wen. Unlike Hu, who was formal, mostly unsmiling and withdrawn, Xi is relaxed, warm in his personal interactions with his colleagues and party functionaries and outgoing.
Wen was a warm and people friendly leader, who mixed easily with party functionaries and the ordinary people and came to be loved as 'Grandpa Wen'. Not much is yet known about his successor Li, but he seems to be modeled more after Hu.
Those who expected some winds of political change to blow from the NPC would have reasons to be disappointed. Despite being personally likeable, Xi came out as a cautious and politically conservative leader who is unlikely to take any major political initiatives. His cautious approach was stamped on the proceedings and style of the NPC. Whereas the previous NPC sessions used to be lively with China's growing community of netizens competing vigorously with the NPC to become the real voice of the people, the just-concluded NPC session was lackluster, carefully orchestrated and discouraged competitive debates from the online community.
Nothing brought out the change in style more dramatically than the unusually restrained role of Wen in the proceedings. Wen, who in the past used to be in the forefront of leaders advocating political reforms to follow economic reforms and who used to point out that Deng Xiao-Ping felt that economic reforms would not be sustainable unless ultimately followed by appropriate political reforms, was relatively inarticulate on this subject.
References to the need for political reforms took a back seat in the 12th NPC. Apart from the importance of revamping the Chinese economy, two other messages, which came out loud and clear from the NPC, were the inadvisability of experimenting with Western style political reforms and the importance of continuing the effective control of the CPC over the PLA.
The proposed revamping of the economy would stress quality growth with greater priority to encouraging domestic consumption and reducing the dependence on foreign investment. It would also pay attention to measures for the removal of present ills in the economy such as corruption, inefficiency, inequality and environmental damage. The emphasis would still be on sustaining the Chinese economy as the second largest after that of the US, but livelihood issues and issues likely to impact political stability and social harmony such as corruption and environmental pollution would receive greater attention.

Image: China's President Xi Jinping shakes hands with China's newly elected Premier Li Keqiang as other delegates clap during the fifth plenary meeting of the first session of the 12th National People's Congress in Beijing on Friday | Photograph: China Daily/Reuters