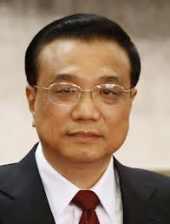 Seeking to enhance cooperation with India, China's new Premier Li Keqiang told Prime Minister Manmohan Singh that Beijing would like to promote strategic cooperation and partnership with New Delhi to a "new stage".
Hours after his endorsement as premier on Friday, Li told Dr Singh over phone that enhanced bilateral cooperation would contribute to enlarging the two countries' space for development and common interests.
China will, as always, "attach great importance to its ties with India, and would like to work with it to promote their relations of strategic cooperation and partnership to a new stage," state-run Xinhua news agency quoted him as saying.
Li, an English-speaking bureaucrat and a reformist leader, was yesterday as elected as the Premier of the world's second largest economy by about 3,000 deputies of the National People's Congress, known as the rubber stamp Parliament.
Thanking Dr Singh for congratulating him, Li said China and India are the two largest Asian powers and developing nations, which are also two ancient civilizations and emerging economies.
Li said by enhancing their cooperation, the two countries can expand their space for development, and increase common interests so as to facilitate a sustainable economic and social development and help the world order and system advance in a just and reasonable direction.
"This will promote better livelihood of more than two billion people in the two countries, which bears a great significance for the whole world," he told Dr Singh.
Dr Singh said that bilateral ties over the past few years have seen a comprehensive development and continuous progress in cooperation and exchanges in various fields, Xinhua reported.
Li, who is ranked second in the new leadership structure of the ruling Communist Party of China, said that the world has enough room for both India and China to realise their common goals for development.
The PM expressed satisfaction with the progress in bilateral relations in recent years. Dr Singh said India is willing to work with the new Chinese leadership to explore the potential for mutually beneficial cooperation and make even greater achievement in bilateral ties so that the two countries could set an example for state-to-state relations in the 21st century, Xinhua reported.
Dr Singh is due to meet newly elected Chinese President Xi Jinping on the sidelines of the BRICS Summit due to be held in Durban in South Africa on March 26-27, which will be the first high-level meeting between the two countries after the new leadership came to power in Beijing.
In January, Xi, also the general secretary of the ruling Communist Party, had written to the PM, assuring that his country would pay "great importance" to developing bilateral ties with India as their cooperation has brought "substantial benefits" to both sides.
"China will, as it has been doing, pay great importance to developing relations with India and expects to carry out close cooperation with India to create a brighter future of their bilateral relations," Xi had said in a letter to Dr Singh.