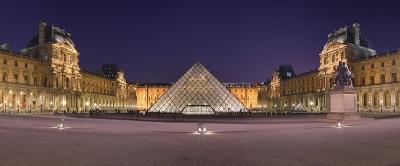 Ministerial reshuffles, elections, Bharatiya Janata Party, Congress, a possible Third Front -- since nobody appears to have a mandate for culture, does it really matter to artists who is in or out? As museums and art institutions languish, it's worth wondering: what happened to spending just a little to shore up our national art collection? Why is no government building us a Louvre? Aren't we worth a Tate? Are we so short of funds that we can't support even a few art institutions to fire the minds and imaginations of generations of Indians?
Now that the summer holidays are ending, vacationers are returning from visits to the Venice Biennale and the Art Basel fair, having viewed the David on loan to the National Gallery of Art, and the Armory show and Chelsea galleries.
Thousands of Indians, who queued up at Vatican City and in Florence to view works by Rafael and Michelangelo and paid their euro 11 to gawp at Leonardo da Vinci's Mona Lisa, cannot cease chattering about Chagall and Monet.
Meanwhile, the Chinese are snapping up Pablo Picasso and pretty near anything they can set their sights on. Paul Klee, Jackson Pollock …
But West Asia, it seems, has done one better -- it is bringing the best museums and galleries home. We already know that the royal family of Qatar had commissioned M F Husain to paint a body of works depicting the history of the Arab civilisation -- and didn't Sheikha Mayassa buy a Cezanne last year for $250 million? But the maverick ways of the wealthy are not the subject of this column.
The Museum of Islamic Art, designed by the iconoclastic architect I M Pei, was commissioned by the Qatar family in 2008, and it has already been the venue for Japanese artist Takashi Murakami's first solo exhibition in the region.
Next year, the National Museum of Qatar, designed by Jean Nouvel, will be ready. Sculptor Richard Serra's iconic '7' sculpture with steel towers has reshaped the Doha waterfront.
But that's nothing compared to the art district -- or island -- that is coming up on the Abu Dhabi waterfront, to be ready by 2015, when it will attract art-lovers to the modern and contemporary collections of some of the biggest museums in the world.
This includes the Guggenheim, here designed by Frank Gehry, and the Louvre Abu Dhabi, which is paying a fee of $525 million for the use of the name (and an additional $747 million in exchange for art loans, special exhibitions and management advice).
Nor is the rest of the region doing poorly. Dubai has established an art fair, and will soon commission the Dubai Modern Art Museum & Opera House District in the UAE's newest arts and cultural nerve centre. Two 'art hotels' and several art galleries form part of the enterprise.
At Muscat, in Oman, a National Museum is under construction, but importantly, an MoU has been signed between the Tate Museum and the Oman Sultanate to build the capacity of the arts and museum sector in Oman, with Tate providing training and advice in museum management.
India? Now here's a drought. As a nation, we have always prided ourselves on our artistic heritage -- but when was the last time you heard any leader, or political party, express an interest in creating an art or cultural district? Any wonder we are being reduced to mediocrity as banal people with narrow visions guide our interests. As a beginning, we could make a visit to the National Gallery of Modern Art compulsory for every Parliamentarian and IAS probationer -- or is even that too much to hope for?
Image: Louvre Museum in Paris | Photograph: Wikimedia Commons