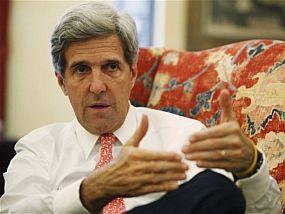 United States Secretary of State John Kerry has said that China is possibly changing its calculations with regard to North Korea, adding if it enters into a partnership with the United States, this will bring regional peace.
"I think China is changing its calculation, and that's yet to be proven in the days ahead," Kerry told members of the State, Foreign Operations and Related Programmes Subcommittee of House Appropriations Committee during a Congressional hearing on Wednesday.
"But if China will join us as a partner here, I think we can address everybody's interests of stability in the region and the long-term health and welfare of the KoreanPeninsula as well as the other interests we have in the region. That's all I'm saying," Kerry said in response to a question.
Responding to questions from lawmakers, the Secretary of State said it is in China's interest to have stability on the peninsula.
"I think it's also in their interest not to see the United States go to war with North Korea and have a war on their doorstep. So I think there are rational reasons why the Chinese might choose here to help us conceivably bring North Korea into a very different posture," he said.
According to Kerry, of all the international players, China has the most influence over North Korea.
"There's one player in there who has the most ability to make something happen with respect to something we've been working on for 20 years that hasn't happened, and that's
China. I think it is pretty certain that Kim Jong-un is sitting there, calculating up until now that unless China cracks down on him, he's free to play the game. And that's the way it's worked up until now," he said.
"If Kim Jong-un believes he can parry and thrust and be provocative and do whatever he wants without consequence in terms of his relationship with China, that's exactly what his father chose to do. They took it to a point where it sort of was provocative but not so much so that the stability of the peninsula was really completely thrown up for grabs," he said.
"I think what's different this time is that Kim Jong-un has done this quite differently from both his father and grandfather and has taken it to a point where the peninsula is kind of rattling in a way that hasn't -- that I think the Chinese don't like," he said.
Kerry said the Chinese care enormously about stability. "The North Koreans are now making things unstable. Not only that, but inviting greater American presence militarily in the region and outside the region in ways that they also don't necessarily appreciate," the Secretary of State said.

"So it seems to me that if the Chinese will join with the United States in an approach to the North Koreans that makes it clear that we're prepared to do an agreement, we're prepared to, you know, create an entirely new relationship, we're prepared to welcome them back in the community of nations if they will denuclearize, but China has to make it clear to them that it matters to China," he said.
"Much of the evidence indicates that Kim Jong-un's current calculation is that he can do things and get away with it, that China won't crack down," he said in response to a question.