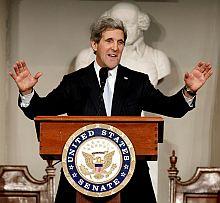 The United States has said that the tension on the Korean peninsula has reached "critical time" and asked China to put "some teeth" in its policy to exert pressure on its ally North Korea to scale back on its threat of a nuclear war.

"Mr President, this is obviously a critical time with some very challenging issues," visiting Secretary of State John Kerry told Chinese President Xi Jinping in Beijing on Saturday.
"Issues on the Korean peninsula, the challenge of Iran and nuclear weapons, Syria and the Middle East, and economies around the world that are in need of a boost," he said.
Kerry, who travelled to Beijing for the first time as the secretary of state, made a strong bid to prevail on China's new leadership to take more proactive stand towards North Korea, which in recent weeks has threatened a nuclear war against the US and South Korea.

As one of the closest allies of Pyongyang, Beijing has a unique ability to use its leverage over the government of Kim Jong-Un, Kerry had said earlier in South Korea before travelling to China.
North Korea has declared a "state of war" with South Korea and warned that US bases in Hawaii and Guam would be targeted in what could turn into "an all-out war, a nuclear war".

China, like the US, wanted denuclearisation on the peninsula, Kerry said, adding "If that's your policy, you've got to put some teeth into it."

He described his meeting with Xi as "constructive and forward-leaning".
In his opening remarks, Xi called for the world's two biggest economies to work out a new type of US-China relationship and coordination to address hot spot issues.


"We should blaze a trail for a new type of relations between major powers that features equality, mutual trust, tolerance, mutual learning, cooperation and common prosperity," Xi was quoted as saying by the state-run Xinhua news agency.
Besides President Xi, Kerry held talks with Premier Li Keqiang, Foreign Minister Wang Yi and tried to persuade China to use its influence on Pyongyang to settle for talks.

Xi urged the two countries to interact positively in the Asia-Pacific region, where China is openly concerned about US Asia pivot strategy deploying majority of its military assets, which Beijing says is aimed at containing it.

Xi said the two countries should step up communication and coordination on regional and international issues and safeguard regional and world peace, stability and prosperity.
After meeting Kerry, Li said rising tension in the Korean peninsula was in nobody's interests.
"All sides must bear responsibility for maintaining regional peace and stability and be responsible for the consequences," he said, according to the official media.

"Disturbances and provocation on the peninsula and regionally will harm the interests of all sides, which is like lifting a rock only to drop it on one's feet," he said.

China has made strong remarks against North Korea in recent weeks but not taken any strong action to back its criticism.

On its part, the Chinese leadership made it look that it is comfortable dealing with Kerry who, compared to his predecessor Hillary Clinton, was seen as someone willing to forge a closer ties with Beijing, not focussing too much on territorial disputes in the South China Sea and China's problems in the neighbourhood.
"Clinton added fuel to the mistrust during her four-year term. We hope Kerry can pull it in the other direction," state-run Global Times said in its editorial.

In his talks with Kerry, Wang said China and the US should interact positively in the Asia-Pacific region
"Chinese and US efforts to build new relations should start from the Asia-Pacific region, where the two countries have the most converging interests and interact most frequently," state-run Xinhua quoted him as saying.

Apparently referring to the number of South Asian countries trying to rope in US to deal with maritime boundary disputes with China, Wang urged both sides to send positive signals to the region and discourage attempts to cause trouble between the two countries.
He also called for joint efforts with the US to ensure safe and open cyberspace.
Referring to the spate of reports accusing Chinese military in number of cyber attacks, Wang said that China opposes any form of hacking.
Cyberspace should be a field where China and the US can enhance mutual trust and boost cooperation, Wang said.

Both sides should remain calm and objective when handling related issues and conduct dialogue on the basis of mutual respect and trust.