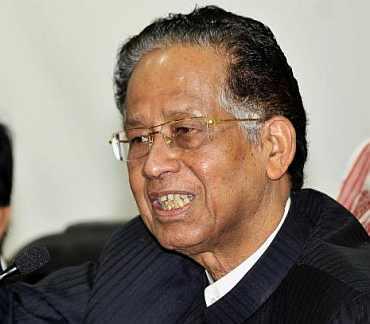 In a sharp defiance of Assam Chief Minister Tarun Gogoi, Congress MPs and legislators from the two hill districts of Assam -- Karbi Anglong and Dima Hasao -- have taken an initiative to launch a forum to demand a separate state comprising two hill districts.
The five MLAs and the lone MP along with other district level Congress leaders and party workers have formed the United Forum for Hill State to press for the demand for a separate state. The hill districts are governed by autonomous district councils as per the provisions of the Sixth Schedule of the Constitution.
Congress MLA and a parliamentary secretary, Dr Monsing Rongpi is the president of the forum. Rongpi said there was nothing wrong with demanding a separate state. "We are demanding just a state out of Assam, not secession," he said.
Two district Congress presidents from the hill districts and two chief executive members of the Congress-ruled autonomous districts councils in are the vice-presidents of the forum.

The advisers of the forum include veteran Congress leader and MP, Biren Singh Ingti, Congress MLA G C Langthasa, Congress MLA and parliamentary secretary Bidyasingh Ingleng and state Veterinary and Hill Areas Development Minister Kharsing Ingti.
An all Congressmen forum demanding a separate State out of Assam in sharp is contrast to the policy of the party.
Aspiration for a separate autonomous state in the two backward tribal dominated hill districts dates back to several decades and the demand has now been upgraded to that of creation of a full-fledged state in the wake of Centre's decision to facilitate the creation of Telangana out of Andhra Pradesh.

Image: Assam Chief Minister Tarun Gogoi