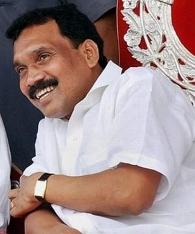 The Central Bureau of Investigation on Wednesday filed a charge-sheet against former Jharkhand chief minister Madhu Koda for allegedly amassing disproportionate assets worth Rs 8.42 crore during his tenure.
"The Central Bureau of Investigation has filed a charge- sheet against ex-chief minister of Jharkhand in the Court of Special Judge, CBI, Ranchi for possessing assets disproportionate to his known sources of income. His associate has also been chargesheeted along with him for abetting the offence," CBI spokesperson said in a statement on Wednesday.
The official said Koda's assets and expenditure have been found to be disproportionate to the tune of approximately Rs.8.42 crore.
Koda, who was chief minister between 2006 and 2008, is facing allegations of amassing disproportionate assets besides charges of money laundering, which are being probed by the Enforcement Directorate.
The Jharkhand Vigilance Bureau had registered an FIR on July 2, 2009, in a case of disproportionate assets involving Koda and some former state ministers.
The case was later transferred to CBI by the Jharkhand high court. The agency had alleged that the accused had acquired a large number of properties and companies, within and outside the country, out of this ill-gotten wealth.