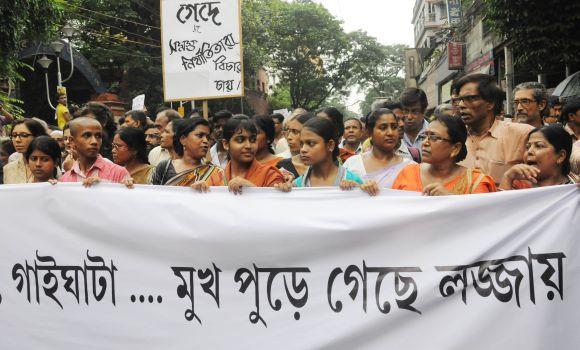 The Calcutta high court on Thursday said it would monitor the Criminal Investigation Department investigation into the Kamduni gang rape and murder case and also questioned the justification of state Chief Minister Mamata Banerjee's fixing of a time frame for completing the probe.A division bench comprising Chief Justice Arun Mishra and Justice
Joymalyo Bagchi directed that the court would monitor the probe into the gruesome incident which occurred on June seven and asked the CID to file a report on the progress of the investigation by July 30.
The matter would appear before the court on July 30. At Barasat, a fast track court hearing the case on Thursday fixed July 12 for the submission of the charge sheet against six accused by the CID.
On Wednesday, fast track court judge Arpan Chattopadhyay, who had criticised the CID for filing an incomplete charge sheet which had names of three more accused missing, on Thursday expressed satisfaction after the probe agency submitted the case diary.
The CID counsel explained since the case diary did not have the names of the three other accused pending filing of the forensic report, the chargesheet did not contain the names. The counsel submitted that an additional charge sheet would be filed against three other accused, one of whom is at large, as soon as the forensic report was available.
The fast track court was set up to try the accused in the gang rape and brutal murder of a college girl at Kamduni village on June 7.
The division bench of the Calcutta high court taking up the Public Interest Litigation seeking formation of a Special Investigation Team to probe the incident and monitoring by the court, questioned the justification of the head of the state administration's fixing of time frame for filing charge sheet and completion of trial.
"We promise stringent action against the culprits. We shall submit the charge sheet within 15 days and the culprits will be punished within a month. We, on behalf of the government, will plead for a death sentence," Banerjee had said during her visit to Kamduni on June 17, following the incident.
Observing that such comments create pressure on the investigators, the division bench said that this leads to hurried investigation and thus leaves scope for lacunae.
Terming such comments as populist, the bench observed that a person who is the head of administration should be cautious in making such comments.
The PIL, moved by counsels Bikash Bhattacharya and Uday Shankar Chatterjee, has also prayed for a compensation of Rs 50 lakh to the kin of the girl, who had been brutally raped and murdered at a secluded spot in the afternoon of June 7, when she was returning home after appearing for a university examination.


Image: Citizens of Kolkata turned out in huge numbers in a rally organised by intellectuals of Kolkata to protest gangrape of a student at Kamduni, North 24 Parganas on June 21.
Photograph: Abhiroop Dey Sarkar