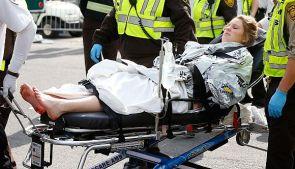 United States President Barack Obama described the Boston Marathon blasts as "an act of terror" and vowed to bring to justice all those who were responsible for the heinous and cowardly act.
"This was a heinous and cowardly act. And given what we now know about what took place, the FBI is investigating it as an act of terrorism. Any time bombs are used to target innocent civilians, it is an act of terror," Obama told the White House press corps.
The twin blasts, the first large-scale bombing since the 9/11 terror attacks on the US soil in 2001, ripped through a cheering crowd at the finish line of the Boston Marathon, leaving three persons dead and 176 others wounded.
"What we don't yet know, however, is who carried out this attack or why, whether it was planned and executed by a terrorist organisation, foreign or domestic, or was the act of a malevolent individual. That's what we don't yet know," Obama said.
Obama issued a proclamation to fly the national flag at half-staff in honour of the blasts victims.
In his remarks, the US President vowed to bring to justice all those who were responsible for this act of terror.
"We're at the beginning of our investigation. It will take time to follow every lead and determine what happened, but we will find out. We will find whoever harmed our citizens, and we will bring them to justice," he said.
Obama said he has directed his administration to take appropriate security measures to protect the American people.
"This is a good time for all of us to remember that we all have a part to play in alerting authorities. If you see something suspicious, speak up," he said.
Obama said more details would be made available as and when they become available.
"What I've indicated to you is what we now know. We know it was bombs that were set off. We know that, obviously, they did some severe damage. We do not know who did them. We do not know whether this was an act of an organisation or an individual or individuals. We don't have a sense of motive yet," he said.
"So everything else at this point is speculation. But as we receive more information, as the FBI has more information, as our counterterrorism teams have more information, we will make sure to keep you and the American people posted," he said.
"So if you want to know who we are, what America is, how we respond to evil, that's it: selflessly, compassionately, unafraid," said the US President.