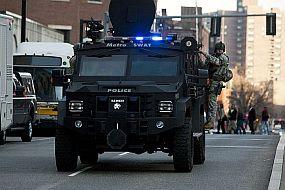 Home-grown terrorists may be behind the twin explosions that ripped through the cheering crowd at the finish line of the popular Boston Marathon, killing at least three people and injuring over 140.
President Barack Obama, who said any "responsible groups will feel the full weight of justice" did not call the explosions an act of terror but a little later a White House official said they were approaching the blasts as an act of terror.
Some terrorism experts warned that it will be "fool hardy" to speculate but other analysts believe that it was unlikely that an international terror network was behind the explosions.
US security experts warned that it was virtually impossible to prevent such attacks in a free country.
They said the bombs could easily have been hidden in a backpack, avoiding all suspicion among the thousands of spectators who flooded the Back Bay.
Retired FBI bomb technician Kevin G Miles said the attack could "easily" have been the work of one person.
"A one-man operation could easily do something like this," Miles was quoted as saying by the Boston Herald.
"It would take some coordination, some know-how and some intelligence, but a lot of bombers throughout history have been one person."
Miles also said it would have been all too easy for the bomber or bombers to blend in.
"There are thousands and thousands of people. You're not going to be able to check everybody's backpack, everybody's gym bag. Every runner's got a backpack... We're a free country. This isn't Russia or Cuba."

The white smoke was indicative of a "commercially available explosive," such as smokeless gunpowder, Miles said.
He, however, said there is nothing to immediately indicate whether it was the work of a team or a lone wolf.
While Grant Haber, a security consultant who runs the firm American Innovations, said that when the "terrorist has planned an attack and they're going to utilise an IED as their weapons of strategic influence, it's hard to stop that in a free and open society".
Early reports suggest that the devices were crudely made -- otherwise, they probably would have killed many more people -- making it unlikely that they were the work of a foreign government or global terrorist group, such as Al ­Qaeda, the experts were quoted as saying by Boston Globe.
But the Boston Marathon is an unusually public event, giving hundreds of thousands of people easy access to the 26-mile route, and the bombs could have been set off by radical Islamists from the United States influenced by events or clerics in the Middle East, local extremists on either the left or right, or deranged killers with no ideological agenda.
Radical Muslims "will be every­one's favourite suspect, but there are many other possibilities," said Brian Michael ­Jenkins, a terrorism specialist at the Rand Corp.
Some media outlets reported a Middle Eastern connection in the Marathon bombing, too, saying that authorities were questioning a Saudi national being treated for burns at an area hospital.

But Boston police said they have made no arrests, and the FBI issued a statement saying it "remains too early to establish the cause and motivation" of the attack, though the FBI agent overseeing the Boston office, Richard DesLauriers, called it a "potential terrorist investigation".
Terrorism experts point out that domestic terrorists have been behind other attacks on US soil, including the Oklahoma City bombing that killed 168 people in 1995, the deadly Olympic Park bombing in ­ Atlanta in 1996, and the ­Unabomber, who killed three people in more than a dozen ­ attacks from 1978 to 1995, the report said.