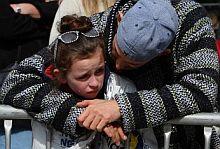 Investigators probing the Boston Marathon bombings are not calling the attacks an act of Islamic terrorism yet.
According to media reports, federal investigators are looking into possible links with the Patriot's Day anniversaries of the Branch Davidian compound seige in Waco, Texas, and the Oklahoma City bombing.

US President Barack Obama himself acknowledged the significance of the Patriot Day holiday during his briefing on Monday.
'Today is Patriots Day. A day that reflects the freedom Boston has celebrated throughout its history,' he said.
Patriots' Day marks the first battles of the American Revolutionary War in Lexington and Concord in Massachusetts on April 19, 1776.
The federal siege in Waco took place on April 19, 1993. The siege began when the United States Bureau of Alcohol, Tobacco and Firearms, accompanied by several members of the media, attempted to execute a search warrant at Mount Carmel Centre ranch, a property of the religious group the Branch Davidians located in the community of Elk, Texas, 14 kilometers east-northeast of Waco.
Two years later on the same date, the Oklahoma City federal building was bombed by American terrorist Timothy James McVeigh. A militia movement sympathizer and Gulf War veteran, McVeigh sought revenge against the federal government for their handling of the Waco Siege, which ended in the deaths of 76 people