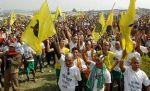 National Democratic Front of Bodoland chairman Ranjan Daimary, the prime accused in the October 30, 2008, serial blasts, has been granted bail by Kamrup District and Sessions court.
Daimary was granted bail on Thursday against Rs 3 lakh, with two sureties of the same amount each.
Daimary was, however, restricted from moving out of Assam without permission. He was also asked and to deposit his passport and driving license.
The chairman of the Assam's insurgent group, had applied for bail in December to participate in the ongoing peace talks between the government and NDFB faction led by him.
Daimary was already granted bail in nine cases which was opposed by the CBI, but the agency later agreed not to do so provided he abide by the conditions set by it.
The court also directed him to attend the trials regularly, not get involved in any anti-national activities and not to make any statement in favour of NDFB.
In 2008, about 100 people had lost their lives after NDFB triggered blasts in Guwahati, Kokrajhar, Bongaigaon and Barpeta Road.