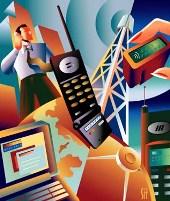 Even as the Supreme Court on Thursday restrained Bharti Airtel from adding new customers in seven circles, it did not impose any bar on offering 3G services to its existing customers in Kolkata, Madhya Pradesh, Haryana, Gujarat, Maharashtra, Uttar Pradesh East and Kerala -- the circles where it does not possess the requisite spectrum.

The company, which has over 6.8 million 3G subscribers, does not disclose the break-up of its user base in various circles.

It had signed a tripartite intra-circle roaming agreement with Vodafone and Idea Cellular. Under this, an operator could offer 3G services using others' network in a circle where it did not have spectrum.

An SC Bench, headed by Chief Justice Altamas Kabir, also asked the Department of Telecommunications not to take any coercive action against Bharti Airtel, Idea Cellular and Vodafone India.

DoT had issued showcause notices to these companies, besides imposing a fine and asking them to close operations in these circles.

Before passing the order, the court said it was concerned that its direction should not affect millions of customers, including rickshaw pullers, who used mobile phones.

The Bench issued notices to all parties, and BSNL, to formally place their views on the subject before the court within four weeks.

The case will now be listed for final hearing on May 9.

Following the SC order, the company's scrip slipped on the Bombay
Stock Exchange.
It closed 2.3 per cent lower than its previous close at ~275.15. However, the Idea Cellular stock rose 2.5 per cent to close at ~111.35.
According to industry estimates, a third of the three companies' 3G subscribers would be affected by imposition of the DoT order cancelling intra-circle roaming.
"Today's order will not have much impact on the companies.
"On an average, the three companies add about 50,000 3G customers a month; only a part of this is roaming.
"But, it takes about a month for a subscriber to revamp usage," said Cellular Operators Association of India Director-General Rajan Mathews.
The companies declined to comment.
Bharti had earlier said the 3G intra-circle roaming arrangements were in compliance with all regulations and it had provided all relevant details to the authorities.
The combined 3G user base of Bharti Airtel, Vodafone India and Idea Cellular currently stands at about 12 million.
Mittal, ravi Ruia appear in court
Bharti Group CMD Sunil Bharti Mittal took many by surprise on Thursday when he reached the Patiala House Court in a case related to additional spectrum allocation in 2002.
The CBI Special Court had issued a summon to Mittal to appear on April 11, but he had moved a plea in the Supreme Court against it.
Essar Group promoter Ravi Kant Ruia and former telecom secretary Shyamal Ghosh marked their attendance in the court.
The hearing has been adjourned till April 16.