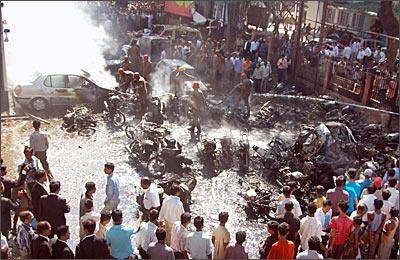 The court of the session judge in Kamrup district of Assam on Thursday granted bail to top militant leader and the self-styled chairman of outlawed National Democratic Front of Bodoland Ranjan Daimary who was named the prime accused in the Assam serial blasts that had killed 98 people and left over 400 maimed on October 30, 2008.
Daimary alias D R Nabla, however, has five more cases pending against him for which he has been fighting for bail. He will be able to walk out of the jail only if he gets bail in all these cases.
The dreaded militant leader is currently lodged in Guwahati Central Jail. The NDFB which recently split into two, has been responsible for numerous incidents of dastardly acts of violence in the State for the last three decades.
"The Central Bureau of Investigation case for which Daimary was granted bail relates to the serial blasts of October 30, 2008 that took place at three places Guwahati and several other towns in Assam. There are, however, five more cases against him for which we are pleading for bail. These include four Terrorist and Disruptive Activities cases and one case filed by the Special Operations Unit of the Assam police," Nabla's lawyer Manas Sarania said.
Daimary was arrested by the Assam police in May 2010 subsequent to his apprehension in Bangladesh. He was named as the mastermind of the serial blasts in the CBI chargesheet that altogether has 22 names.Fourteen of them, including Daimary are in currently judicial custody.
The court, while granting bail to Nabla in the serial blasts case has imposed as many as eight conditions, which include one that debars him from giving interview to the media.
"The court has also directed the Assam government to provide him security in case there was any threat to his life after his release," his counsel Sarania said.
Nabla will have to pay Rs 3 lakh as bail amount and provide two sureties of like amount. The NDFB chief had moved the bail petition on December 20 last.