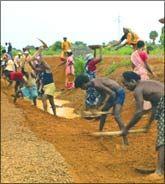 Bihar government has decided to use high-tech GPS enabled Android phones to monitor progress of the rural jobs scheme and keep a watch on the officials involved in the implementation of the scheme.

"The government will soon provide Android phones to officials under the Mahatma Gandhi National Rural Employment Guarantee Act. It will help them keep an eye on the implementation of the scheme", Bihar Rural Development Minister Nitish Mishra said on Friday.

Mishra said that introduction of Android phones to monitor progress of MNREGA will also check irregularities in its implementation.

"Till date government has sacked 289 officials for corruption in the state's rural job guarantee scheme and lodged FIRs against 318 officials," Mishra pointed out.

According to officials in the state rural development department, the phones will ensure site supervisors to quickly complete their project report or inspections while on the
job and send them immediately, over mobile networks, saving several hours of clerical work and unnecessary travel.
Mishra said that Bihar government has decided to pay wages to workers under the MNREGA through public sector banks instead of post offices to check delays and irregularities.
He said that government has launched a special drive to verify job cards issued to 1.27 crore beneficiaries and to recover the ghost payment made to nearly 20 lakh duplicate job card holders under the MNREGA.
Last year, Delhi-based Centre for Environment and Food Security said a performance audit of MGNREGA in Bihar found that 73 per cent of the Rs 8,189 crore scheme funds, spent in the state's 38 districts in six years (2006−12), were embezzled by the implementing authorities.
The MNREGA, a flagship programme of United Progressive Alliance government, aims at enhancing the livelihood security of villagers by guaranteeing 100 days of wage-employment in a financial year to a rural household whose adult members volunteer to do unskilled manual work.