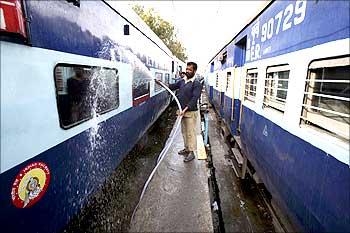 Expressing concern over the 'poor financial situation' in the railways, opposition parties on Thursday asked the government to come out with steps to be taken to improve the condition of the public sector unit behemoth.

"One of the former railway ministers of the United Progressive Alliance Dinesh Trivedi had stated that the Railways was in the Intensive Care Unit on the basis of the poor financial situation in it.

"I would request the Railway Minister Pawan Kumar Bansal to tell us in his reply as to what steps will he take to improve the condition," Bashistha Narain Singh (Janata Dal-United) said.

He said the Railway Minister has 'not done' any justice to Bihar as not much has been given to the state.

Singh
said the Railways was not doing adequately to provide safety, security and service to passengers.
He said lack of cleanliness was a major issue with passengers and Government's announcements about bio-toilets and eco-toilets were also not inspiring much hope among the common people.
Singh said the Railways had also failed to provide own products such as the 'Rail Neer' bottled water to passengers at the rail stations.
Vasanthy Stanley (Dravida Munnetra Kazhagam) termed the Budget as one 'without pompous promises' and appreciated Bansal's initiative to meet all MPs before the preparation of the Rail Budget.
She said in view of frequently changing fuel prices, fuel adjustment mechanism was good 'but the Railway Minister should assure us that when prices of fuel go down, freight charges will be proportionally reduced.'