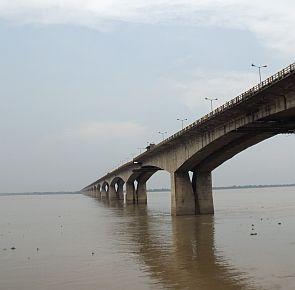 The flood situation in Bihar is showing signs of improvement after swollen rivers started receding on Friday. For nearly a week major rivers like Ganga had wreaked havoc in the state.
"The flood situation is no more alarming as it was twenty-four hours before," a disaster management department official said.
Hundreds were rendered homeless and the death toll in the devastating floods rose to 179. Nearly 60 lakh people have been affected due to floods in 20 districts of the state.

According to officials of the water resources department, Ganga and other rivers are still flowing above the danger line at several places but the water level has decreased compared to what it was on Wednesday and Thursday. "It is expected to decrease further by Saturday," officials said.

Despite improvement in the flood situation, the state fears more devastation as the Indian Meteorological department has warned of heavy rains in the second week of September in districts bordering Nepal.
Principal Secretary of Disaster Management Department Vayasji said the government has sounded an alert and is taking measures to face such a situation. "The IMD has predicted "havoc rainfall" --high-intensity rainfall measuring around 300mm in 24 hours in north Bihar districts that may badly hit millions of people in the state," he said.
He told rediff.com that if there is a cloudburst in Nepal, its impact would be felt all over Bihar. The rivers flowing from Nepal would bring rainwater to the state creating more devastation.

The state government has requested the National Disaster Management Authority to send three companies of the NDRF for emergency rescue and relief operations.
State Water Resources Development Minister Vijay Kumar Choudhary told mediapersons that for the first time in the last decade, Ganga had crossed its previous records early this week. He said all river embankments were safe and there was no need to panic.
Officials said standing crops, including bananas, in 5 lakh hectares worth crores of rupees have been destroyed.