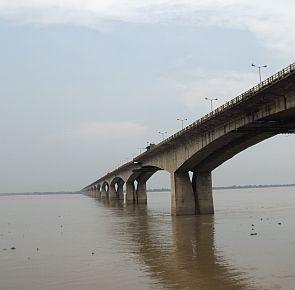 The swollen Ganga river is threatening to flood Bihar capital Patna.

The river has been flowing well above the danger mark and threatens to inundate settlements on the banks.

Bihar Water Resources Minister Vijay Kumar Choudhary, though, says that there is no need for panic.

"Necessary instructions to prevent the flooding of the city have been given to officials," he told rediff.com.

"The government has already initiated the emergency mechanism to protect Patna in view of rising Ganga following heavy rains in the neighbouring states and some parts of Bihar in last 24 hours," Jawahar Lal, an official of the flood cell of the state Water Resources Department said.

To prevent the river from flowing into Patna, the state authorities have sealed all the openings along the 8.5 km-long Patna town protection wall that was constructed after the floods of 1975
when the waters of the Ganga and the Sone rivers had wreaked havoc in the city.
For the younger generation in Patna, the scenario of flooding in the state capital is something new.
"Flood threat is something we heard and read till date. But now it is in Patna also," Ankita Sharma, a class 12th student, said.
Rakesh Kumar, a college student, said: "Flooding is a big thing for us. But it is also a big challenge if water entered Patna."
The Water Resources Department has cancelled the leave of its field officials in view of flood threat and asked them to patrol the protection wall round the clock.