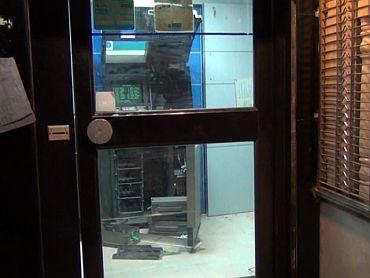 A caretaker-cum-security guard of a State Bank of India ATM centre in Bhayander, a township in Thane district adjacent to Mumbai, on Friday night looted Rs 23 lakh cash after locking up a mechanic in a room.
The guard first downed the shutters of ATM centre and placed an "out of order" board and then called the mechanic to repair the "fault". While the mechanic opened the ATM machine after punching in the password, the guard put a chopper on the mechanic's neck and then locked him in an adjoining room inside the ATM centre and vanished with the cash, police officials said.
The Sion-based security agency which employed the guard had no record about the guard, and the Navghar police have booked a case against the agency.
The guard, who has been identified as Prashant Kamble, was employed by the Clear Secured Services in Central Mumbai's Sion to man the SBI ATM near the Bhayander railway station.
Kamble was employed with the agency since 2009.
The locked-up mechanic, Mayur Sridhar, shouted for help, and commuters and onlookers rescued him, Inspector Dinesh Pingle of the Navghar Police said.
"We thought the entire heist would have been captured by the CCTV cameras installed in ATM, but when we checked with the SBI we were shockingly told that there was no camera installed," Pingle also said.
"We have charged Prashant Kamble under Sections 392 (robbery), 342 (wrongful confinement) and 452 (house trespass) of the IPC and we are in search for him," the officer added.
"The Sion-based security agency has no record or official address of the accused guard and it is shocking that he was in- charge of the ATM since the past four years," the officer said, adding, "We are questioning Umesh Patel, national manager of the agency, about the lapse and we will also file a case against the agency for abetting the crime".
Image: The looted ATM centre in Bhayander
Photograph: Hanif Patel