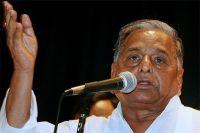 Handing a warning to the United Progressive Alliance, Samajwadi Party chief Mulayam Singh Yadav on Saturday said the Centre should immediately implement the Sachhar Committee recommendations for the welfare of Muslims, failing which it will have to go out of power.
"Either the recommendations of the Sachar Committee should be implemented, or the Congress (led) government at the Centre will have to go," Mulayam said at a function attended by minorities in Lucknow.
The Rajinder Sachar Committee was appointed by Prime Minister Manmohan Singh for preparing a report on the social, economic and educational status of Muslims and was tabled in Parliament in 2006.
Alleging that the recommendations of the committee like quota for Muslims have been put on back-burner, Mulayam blamed Congress for the present state of Muslims in the country.
He said the SP always worked for promotion of Urdu language and madarsas, and is making arrangements to create educational infrastructure in minority-dominated areas.
The SP leader also asked the BJP to change its approach towards the minority community and rethink over its stand on issues like Babri Masjid-Ram Janmabhoomi and Article 370.