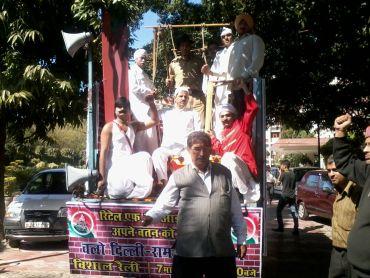 The Confederation of All India Traders, the apex body of trade federations and small-scale sector players in the country, upped their campaign on Saturday against the United Progressive Alliance government's proposal to bring in foreign direct investment in multi-brand retail by another notch. The CAIT announced a nationwide campaign, 'Retail FDI bhagao, apne vatan ko bachao' (Chase out FDI in retail, save our nation) in the national capital on Saturday.
The CAIT is trying to reach out to the Bharatiya Janata Party-led National Democratic Alliance and the Left with their campaign, and will try to have opposition leaders address a large-scale public rally on March 7at the Ram Leela Maidan in New Delhi.
The rally is expected bring about a lakh trade union members together. The CAIT informed that it has called upon 150 trade unions in Delhi to call it a day-off on March 7 and reach the protest venue with their employees. These trade unions will observe 'vyapar bandh' (business strike) on that day.
Speaking to mediapersons in New Delhi on Saturday, senior BJP leader Dr Murli Manohar Joshi and NDA convener Sharad Yadav pledged their support to CAIT and its campaign and spoke about their views against government's decision to introduce FDI in the retail sector.
Sharad Yadav said that the government's policy of FDI in retail was against the interests of the nation, and it will not help India prosper. Dr Joshi noted that he was surprised that the UPA government was relying on foreign investments to push the economy, and added that the nation's dependency on foreign investment will lead to unemployment and poor conditions for farmers.
"We have the talent, the resources and money as well, to churn our domestic enterprises into a success," Dr Joshi said, adding, "We should not depend on foreign investors, especially when the terms and conditions under which they will work are not clear. They will ultimately destroy the culture and heritage of our country".
"The government is trying to bring in a model which did not work either in United States or Europe. There is no clear road map to this policy,' Dr Joshi pointed out.
Interestingly, the CAIT has positioned move to bring FDI in retail as not only against the welfare of the small vendors, traders and farmers, but also termed it against the mother land, and a policy which will make the country its slave. Both the political leaders agreed to it.
The CAIT has in fact built a tableau, with people dressed like freedom fighters Bhagat Singh, Sukhdev Singh, Rajguru and Chandrashekhar Azad. This tableau is a part of the 'sampark yatra' that the CAIT plans to undertake in the capital, till March 7.
"We want to reach out to people and tell them that FDI in retail is against the nation," Praveen Khandelwal, the national secretary general of CAIT, said.
Khandelwal explained, "The global retailers who are being invited to Indian bazaars will push for a pricing policy that will result in crony capitalism and their monopoly over Indian goods and markets."
He said that the CAIT believes that foreign investors will gain control over India markets. "Our motherland will become a slave," he added.
Image: A CAIT tableaux with people dressed like freedom fighters will try to reach out to Delhiites with their stand against FDI in retail
Photograph: Priyanka