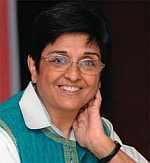 With the Union Cabinet recommending to the President to issue an ordinance to deal with crime against women effectively, former Indian Police Service officer and activist Kiran Bedi on Saturday said that the government needed to give a holistic response to the society on Justice Verma Committee's recommendations.

"Justice Verma Committee is not only about the law. There is a lot before the law and there is a lot after the law. I think the government needs to give a holistic response to the society on Justice Verma Committee's recommendations. It concerns police reforms, it concerns judicial reforms, it concerns electoral reforms. I think what the people of this country demand of this government is a holistic response," said Bedi.


"It's a beginning made, but it's a very long way to go because Justice Verma (Committee's) recommendations is a holistic correction. A politician involved in crime, a person in uniform involved in crime and then police reforms as such. I think this is a beginning. I hope this is not an intention for people to say we have done it and that's it. I think what this country is demanding is a holistic response because Justice Verma Committee is a very holistic way at looking at crime prevention," she added.

The Union Cabinet approved the ordinance on Friday providing for trial for death penalty if the rape victim dies and imprisonment up to 20 years for rape.

Union Law Minister Ashwani Kumar informed the media about the decision soon after the Cabinet committee meeting held on Friday night at Prime Minister Dr Manmohan Singh's residence.

"The Cabinet has decide to recommend the ordinance to the President. It will have most of the Justice Verma committee recommendations. The UPA government is committed to protect the dignity and safety of women in the country," said Kumar.

The three-member committee led by former Chief Justice of India Justice (retired) J S Verma, constituted after the countrywide outrage following the brutal gang rape of a 23-year-old medical student in a moving bus on the night of December 16 last year.

The committee has submitted its elaborate report recently, suggesting ways to deal with crime against women.
The panel has recommended enhanced punishment of imprisonment up to 20 years for rape and life term for gang rape and murder. It has also suggested that crimes like stalking, disrobing a woman and voyeurism be treated as new offences with stringent punishment.