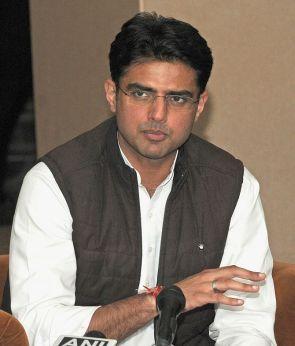 Refuting allegations of divisions in the Congress in Rajasthan, Corporate Affairs Minister and Member of Parliament from Ajmer, Sachin Pilot, speaks to Kavita Chowdhury on a range of issues, including the Congress's prospects in the coming Rajasthan Assembly polls. Edited excerpts:
The Ashok Gehlot-led Congress government in Rajasthan is facing a tough electoral battle. Despite the host of freebies announced by the government, all pre-poll surveys have predicted massive losses for the ruling party.
I don't know what the surveys are predicting. But these surveys are generally conducted about two months ahead of the polls. In Rajasthan, it's a two-party contest and as of now, the Congress and the Bharatiya Janata Party are still declaring their candidates. Things change by the time of actual polling. The Congress government in the state in the last five years, has worked satisfactorily. What you call freebies are entitlements of the people -- whether it's free medicine or laptops; it's utilising the resources for the larger good. I am confident with the United Progressive Alliance's support in railways, airports etc, we will come back to power; anti-incumbency is not a factor.
One of the major drawbacks of the state Congress unit has been rampant factionalism. There is a pronounced (Ashok) Gehlot faction and a CP Joshi (the former Pradesh Congress Committee [PCC] chief) faction.
There is only one faction in the Congress -- that is the Sonia Gandhi and Rahul Gandhi faction. Joshi and Gehlot have worked together for years. He (Joshi) even worked as a minister under Gehlot in 1999, so all this talk of factionalism is untrue.

When a young leader such as Jyotiraditya Scindia can be made the campaign chief in Madhya Pradesh, why haven't others such as you or Jitendra Singh been pushed to the fore in Rajashan. Instead, the Congress is banking on Gehlot.

I was a Member of Parliament at 26 and a minister in the Cabinet by 31, and now I am a minister with independent charge. Jitendra Singh has been an MLA twice and is now sports minister. If you say we have not been given roles in the party, that is unfair. I can say I have got more than I deserve.

We don't have governments in Madhya Pradesh and Chattisgarh. In New Delhi and Rajasthan, we have chief ministers who will naturally play a role. Gehlot himself said the priority was to form the government, regain our majority and come back to power. Despite the surveys that have written us off, I am confident we will form the government.

What do you think are the challenges facing the party in Rajasthan? The government may have launched a bevy of schemes but implementation problems have hampered these.

Rajasthan continues to be an agrarian economy and, geographically speaking, it is the largest state in India. So, the cost of delivery of service is the highest there - whether it's water, electricity or road. That's one challenge; but we have used it to our advantage for solar energy and renewable energy. Other challenges include the fact that the state used to be a BIMARU state, but has moved out of that category. Malnutrition and female foeticide indices are improving, but a lot needs to be done to change the state's socio-economic ethos. It's not the question of one party, one government. We have tried to do our best in the last five years and, hopefully, will get another chance to do so.

Rahul Gandhi has spoken of Muslims in Muzaffarnagar being wooed by Pakistan's intelligence agency; he then spoke of his personal anguish at Indira Gandhi's assassination, however, it has angered the Sikh community who bore the brunt of the riots. Does it not become challenging for the party, for instance, in Rajasthan (a state that has witnessed communal tension) to handle the fallout when such confusing statements are made?

What Rahul Gandhi was trying to say was that whenever there's a fault-line created artificially in a society, whether it's of caste or religion, there are people who take advantage. We, as a nation, have to try and mitigate that collectively. When he talked about Indira Gandhi -- he was giving his own example of how personal tragedies put anguish and anger in the minds of young people and how he took a long time to get over it. In the long run, you have to think of the interests of the nation and put those above your anger. We have to look beyond one state, one election because the plurality of our nation is far more important than certain instances. That's the point he was trying to make.

He has drawn considerable flak for such comments. Shouldn't he refrain from making such statements?

Some of the senior leaders, especially in the BJP, have speeches choreographed from the comma to the semi-colon; loaded statements are being made by leaders who aspire to occupy the highest office of the land. Unlike them, here is a man who speaks from the heart and speaks the truth and is able to connect with the realities of today's India without scoring political brownie points, without wanting to be seen on television or increasing TRP ratings and without cracking wise remarks.

Rahul Gandhi has of late been giving the impression that the Congress stands for the poor, the weak and is almost pitting the industry versus the "aam aadmi"… .

Gandhi is not against industrialisation and he is not against robust economic growth. He went to Indore and spoke of making it one of the most industrialised cities. What he is saying is while we construct those malls, roads, etc, we must not forget the welfare of those who built those malls and airports.

But this has got corporates quite jittery...

He (Rahul Gandhi) has been meeting corporates lately, and the chambers of commerce as well. The fact that he is addressing all sections of the society and interacting with chambers of commerce shows the Congress is a wholesome party. We are talking of a participative democracy. which means involvement of all the people. That's what Gandhi has done.

What about the Supreme Court ruling directing the Central Bureau of Investigation to put corporates under the scanner. As corporate affairs minister isn't it a matter of concern, especially with investor confidence?

Nobody is above the law of this country. Anybody found guilty, must be taken to task. At the same time, we must ensure we don't create an atmosphere of negativity. We have to secure the confidence of domestic investors and those who have invested here. There has to be evenhandedness. We know there have been developments in the recent past that have raised anxiety levels and created a fear psychosis, but we need to ensure we do not exacerbate there. Let's suffice to say the law must be upheld at all costs.