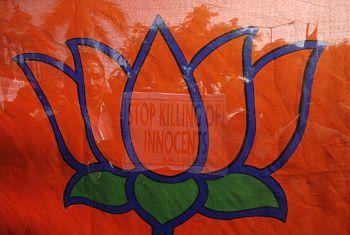 With the announcement of list of candidates for the December 1 assembly elections, rebellion is out in the open among Bharatiya Janata Party rank and file in Rajasthan's Hadoti region, once a stronghold of the opposition party.
Expressing their opposition to some BJP nominees, at least three sitting and former MLAs and several leaders have quit the party. While some have joined other regional parties, many are set to contest as Independent candidates.
Having been denied ticket for the Baran-Atru seat, former BJP minister Madan Dilawar today filed his nomination papers from the Ladpura constituency as an Independent candidate.
Dilawar will now challenge his former party colleague Bhawani Singh Rajawat who, he believes, has played a key role in scrapping of his ticket.
The former minister, however, is still hopeful of being considered for the Baran-Atru seat by BJP, and said, if not, he will file another nomination from the seat on November 11.
Snehalata Arya, former BJP MLA from the Dug constituency of Jhalawar district, quit the party and joined the National People's Party of former Lok Sabha Speaker P A Sangma and former minister Kirorilal Meena.
The party has ignored all survey reports for distribution of tickets and has fielded an outsider, Arya alleged. BJP has nominated R C Suneriwal, an LIC employee, for the seat.
Sitting BJP MLA from Khanpur Anil Jain is also on his way to join NPP after the party denied him ticket and fielded Narendra Nagar from the constituency.
"I have made up my mind to contest the assembly election from Khanpur," Jain told reporters here.
Unhappy over candidature of Ashok Dogra from Bundi and Mahipat Singh Hada from Hindoli, more than a hundred Bundi
district BJP leaders and activists submitted their resignation to district president Kallulal Jhangid today.
Former BJP MLA Omprakash Sharma, former BJP district president Kunjbhari Billeya, BJP district general secretary Brijbala Gupta and deputy district head Asha Meena are among those who quit the party.
The BJP won 12 of 18 seats in the region, comprising Bundi, Baran, Jhalawar and Kota districts, in the 2003 assembly polls, while the Congress managed to get only six. After delimitation, the region now sends 17 MLAs to the 200-member state legislator.
The ruling Congress too had its share of rebellion with more than 30 Congress workers quitting the party in protest against the nomination of Premchand Nagar from the Pipalda assembly constituency in Kota district.