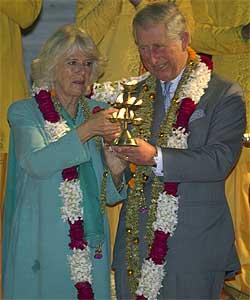 Prince Charles and his wife Camilla Parker Bowles, who are visiting Uttarakhand, relished the Garhwali dishes served to them at a banquet organised by Chief Minister Vijay Bahuguna on Thursday night.
The royal couple was offered mouth-watering dishes like Jhangore ki Kheer, Gahath ki Dal and Manduwe Ki Roti. They were all praise for the items on the menu, sources said.
"They did not just praise the dishes, but even asked a chef how they were made and with what ingredients," a hotel source said.
The British royals also interacted with people present in the hotel and asked Members of Legislative Assembly -- representing constituencies affected by the recent calamity -- how people were coping with the after-effects of the tragedy.
The royal couple began their extensive nine-day India tour with Uttarakhand on November 6.
Meanwhile, senior Bharatiya Janata Party leaders stayed away from the banquet, saying it was "unnecessary" to organise such an event in the wake of the calamity.
Three former BJP chief ministers -- B C Khanduri, Bhagat Singh Koshiyari and Ramesh Pokhariyal Nishank -- besides Leader of Opposition in the state assembly Ajay Bhatt, state BJP chief Tirath Singh Rawat and party Member of Parliament Tarun Vijay were invited to the banquet.
All of them decided not to attend the event in view of the recent calamity in the state.
State BJP chief Rawat said, "The party is thankful to the Prince of Wales and the Duchess of Cornwall for their visit to Uttarakhand. But in a state where people are yet to recover from the effects of the colossal tragedy, a simpler function with less pomp could have been held in their honour."
He said, "We feel that organising a lavish royal banquet in such a time could have been avoided."
The state BJP chief said the party leaders' decision not to attend the lavish feast was out of sympathy with the people of the state who have suffered so much in the recent calamity in Uttarakhand.
Image: Britain's Prince Charles and Camilla, Duchess of Cornwall take part in an Aarti at the Parmarth Miketan Temple in Rishikesh ' Photograph: Arthur Edwards/Reuters