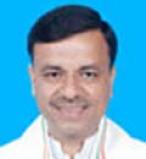 In a setback to the Congress party which is Opposition in Madhya Pradesh, its Lok Sabha member from Hoshangabad seat, Rao Uday Pratap Singh, on Thursday resigned from the party and joined the ruling Bharatiya Janata Party along with some of his supporters.
Singh's decision to quit the party and his joining the BJP was announced at a press conference addressed by Madhya Pradesh Chief Minister Shivraj Singh Chouhan in Bhopal.
Praising Singh, Chouhan said, "Pratap is not only a good politician but also doing good social work in many areas."
Chouhan said he had already been influenced by Singh's style of functioning and added that the two would work together for the development of the state.
Singh said he was "feeling suffocated" in the Congress as it was trying to "impose feudal leadership", at a time when the son of a farmer was leading the state.
Without taking any names, he alleged that large sums of money had changed hands during the distribution of Congress tickets for the upcoming state assembly polls and this had hurt him.
Singh, who is considered close to senior Congress leader and former Union minister Suresh Pachouri, had defeated Madhya Pradesh forest minister and five-time MP Sartaj Singh of the BJP in the last Lok Sabha elections.