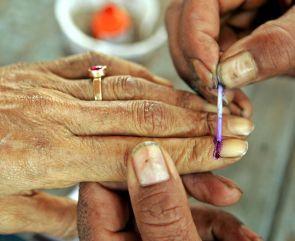 Two octogenarians -- one each from the ruling Bharatiya Janata Party and Opposition Congress -- in Madhya Pradesh figure in the list of candidates for the November 25 Assembly elections in the state.
These veteran politicians -- Babulal Gaur of the ruling BJP and Hazarilal Raghuvanshi of Opposition Congress -- are ready to face the voters at the ripe old age of 83 and 84 respectively.
Gaur will be contesting from Govindpura constituency in Bhopal while Raghuvanshi is all set from Seoni-Malwa constituency in Hoshangabad district.
Raghuvanshi said here today that age does not bother him much.
"I think that I may live up to 100 and it's possible that I can contest the next Assembly elections also," the Congress leader said.
He said that the upcoming election would be the seventh time at the husting for his family.
Hazarilal said that till now he has won four times from Seoni-Malwa from where his son was elected once after he was denied the party ticket.
He lost the 2008 Assembly elections to Sartaj Singh, a former MP who had defeated Arjun Singh from the Hoshangabad constituency in 1998.
The Congressman is pitted against Sartaj Singh this time also but hopes to win as there are lot of protests against the BJP nominee who is at present the forest minister in the Madhya Pradesh government.
Gaur, 83, a former chief minister, in contrast to Raghuvanshi has never lost an election in his life and he has won from Govindpura nine times in a row.
This will be his 10th outing and his opponent this time is Govind Goyal of the Congress.
Despite their age, both Gaur and Hazarilal stick to a very strict routine and spend most of their time interacting with voters in their respective constituencies.