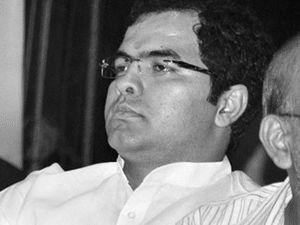 The Delhi Bharatiya Janata Party on Thursday witnessed open rebellion by a section of party workers over its decision to field Pravesh Verma, son of former Delhi Chief Minister Sahib Singh Verma, from the Mehrauli assembly constituency.
Raising the slogan, 'Mehrauli mein outsider Parvesh Verma nahi chalega', around 20 odd BJP workers, claiming to be the supporters of South Delhi Municipal Corporation Mayor Sarita Chaudhary, entered the hall at the party headquarters where party leaders had just finished their press conference.
The irate activists also gheraoed BJP's chief ministerial candidate Harsh Vardhan, while other party leaders like Delhi BJP President Vijay Goel, candidate for the New Delhi constituency, Vijender Gupta, and the Leader of Opposition in Delhi Assembly, VK Malhotra, managed to get out of the place.
"Nobody knows Pravesh Verma in Mehrauli as he is from the Mundka area. He has been imposed on us just because he is the son of former Delhi CM, Sahib Singh Verma.
"Despite working on the ground for the past two years, Chaudhary has been denied a ticket," said one of the protesting party workers.
They claimed that in the last assembly elections, BJP had lost the seat despite putting in hard work as the party had fielded an outsider for the contest.
"If BJP doesn't change its candidate (Pravesh), this time also, we are going to lose the seat," averred another of the activists backing Chaudhury's claim to the Mehrauli seat.
Image: Pravesh Verma