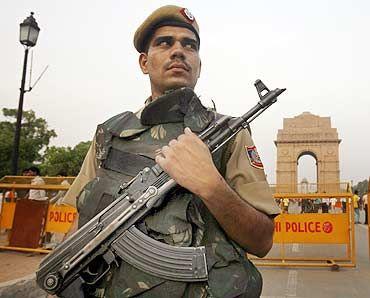 The Centre has directed the Delhi police to provide security to all candidates, including those from Aam Admi Party, contesting the Delhi assembly elections.
Official sources, however, said this was a routine advisory from the home ministry to the Delhi police and issued much before a man claiming to be a Bharatiya Janata Party worker threw ink at AAP chief Arvind Kejriwal and his party colleagues and disrupted a press conference addressed by them here in Delhi on Monday.
The Delhi police is under the direct control of the home ministry. At least two personal security officers will guard each contesting candidate.
However, those candidates, who have already been provided security by the Delhi police depending upon threat perception, will continue to enjoy the same level of security, sources said.
Polling for the 70-member Delhi assembly will be held on December 4.