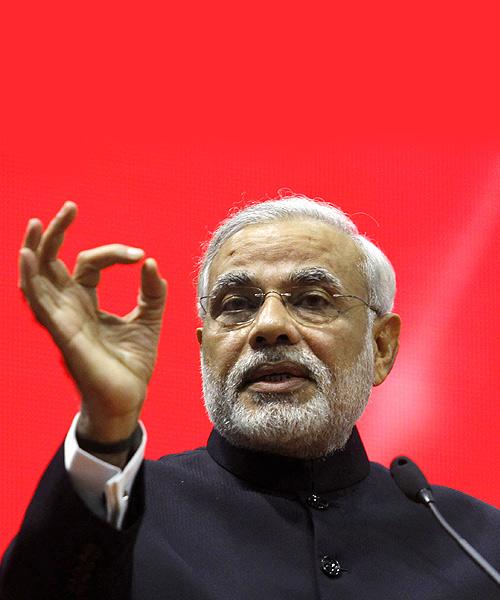 As Narendra Modi hits the campaign trail in Madhya Pradesh, Congress leader Digvijay Singh trained his guns on him, saying the BJP's prime ministerial candidate will not have an impact as he has no vision for the country and "only knows how to abuse".
The former Madhya Pradesh chief minister also claimed that the Shivraj Singh Chouhan government is taking credit for works initiated during his tenure and challenged him to an open debate on development work carried out during their respective tenures.
Hitting out at Modi, the Congress leader said he won't have any impact as, "People have now realised that this man only knows how to abuse. He has not projected any vision for the country and his tall claims of Gujarat model of development have been exposed."
"Modi's ignorance of Indian history, of the history of even the Bhartiya Jang Sangh is something, which people have now understood," he told PTI in an interview during a campaign trail in Rajgarh, a Congress stronghold represented by Singh twice in the past.
Asked about Chouhan's notice to the Congress leadership over "defamatory" advertisements against his family, the All India Congress Committee general secretary said that he would prove the charges of personal corruption against the CM's family in court.
Singh, who was the chief minister of the state for ten years before the BJP then led by Uma Bharti in the state replaced Congress in MP in 2003, also says that the "hype" about Shivraj's model of development is not matched by facts. "They (the BJP) had levelled charges of corruption against Digvijay Singh. I filed a defamation case against Uma Bharti, Sundarlal Patwa (both former chief ministers of the BJP), and Vikram Verma. They have not been able to prove a single charge of corruption against me.
"Now I am levelling charges against Shivraj Singh Chouhan and his family and I dare him to bring about a show-cause notice and lodge a defamation case against me. I will prove in the court that not only he but his whole family has been corrupt," Singh said He also stated that the "dumper scam" was not investigated properly.
Meanwhile,also taking a jibe at Modi, External Affairs Minister Salman Khurshid said he lacks proper coordination between his thoughts and statements and needs to take proper lessons in history before addressing rallies.
"It looks like Modi needs to go back to school and take proper lessons in history. He could not understand history. He does not know where Takshila is situated. He does not know the correct names of his party's founding fathers.
"There is no coordination between what he wants to speak and what he says," Khurshid said while interacting with the media on sidelines of a CII event in New Delhi.
Targeting Modi over alleged snooping on a young woman in 2009, Khushid said, "Kabhi wo shehzada ko sahebzada keh dete hai aur sahebzada ko shehzada. (Sometime he calls shehzada a sahebzada and also the other way round).
Dismissing charges made by Modi in his speeches at rallies, Khurshid said, "I would react only when Modi says something intelligent. It is not about the strength of rallies, but what are being said."
To a question about Anna Hazare seeking a reply from Aam Admi Party convener Arvind Kejriwal on party funds, Khurshid said this action was taken very late. "He (Hazare) has sought a reply very late. I asked for it long ago. If he had asked it that time, then this day could have been avoided," said Khurshid.