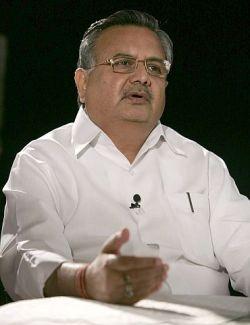 Raman Singh, who steered Bharatiya Janata Party to a record third straight victory in the recently-concluded assembly elections, will take oath of office on December 12.
It was on the same day in 2008 that the suave BJP leader had taken oath as the chief minister of the state after the then assembly elections.
According to official reports, the oath-taking ceremony will be held at Raipur police parade ground at 11 am and many top BJP leaders are likely to attend it.
After he was elected the legislature party leader of BJP at a meeting held at party headquarters in Raipur on Tuesday evening, Singh along with senior party leaders went to Raj Bhawan and staked claim to form government for the third term.
At the meeting, Singh congratulated the winning candidates and extended gratitude to top party leaders as well as workers for their support during the election which was a close call for the saffron party, with Congress showing signs of resurgence.
"...It will be a challenge for BJP to fulfil the promises it has made in election manifesto. All those promises and assurances made to the people of the state will be fulfilled," Singh told reporters.
The chief minister exuded confidence about his party winning the 2014 Lok Sabha elections hands down under the stewardship of its PM candidate Narendra Modi.
"BJP will win all 11 Lok Sabha seats in Chhattisgarh to contribute to BJP's performance in general elections," he added.
BJP won 49 seats out of total 90 seats that went to polls to secure comfortable majority. Its immediate rival Congress was restricted to 39 seats.
Singh (61) has now joined the elite club of BJP chief ministers who have scored hat-tricks in their respective states.
When BJP conquered the state for first time in 2003, Singh took oath as the chief minister on December 7.