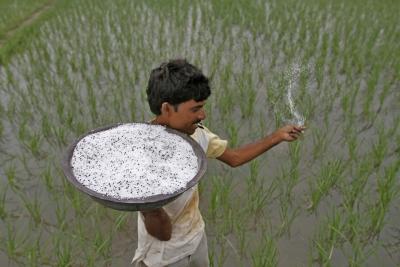 Chhattisgarh, popularly known as the rice bowl of central India, is witnessing politics over the foodgrain with ruling the Bharatiya Janata Party and main opposition the Congress trying to attract voters through it.
The BJP and Congress have offered to provide rice at minimal cost to a select group of people if they are voted to power in this poll-bound state. The Congress has declared in manifesto to give 35 kg of rice free of cost to people Below Poverty Line and Above Poverty Line (excluding income tax payee) if they form government in the state.
Whereas, ruling the BJP is relying on its much-touted transparent public distribution system and subsidised rice to people under 'antyodaya' (extremely poor) and BPL category.
The BJP ruled Chhattisgarh government is already providing rice at Rs 1 and Rs 2 per kg to people of 'antyodaya' and BPL category respectively. It promises to provide rice at Rs 1 per kg to poor people in its manifesto.
"Rice has always been a matter of politics here. People belonging to antyodaya, BPL and APL categories will be provided 35 kg of free rice every month if we are voted to power," said Amit Jogi, son of veteran Congress leader and former Chhattisgarh chief minister Ajit Jogi, who is contesting the assembly election from Marwahi constituency.
BJP supporters are trying to woo voters over rice too. "We will provide a kg of rice at Rs 1. People of all categories will be able to take its benefit," said a state BJP leader.
Chhattisgarh Chief Minister Raman Singh, who is popularly known as 'Chhaurwale Baba' (rice man) in the state for providing the food item at an affordable price for poor, is seeking mandate for third consecutive time.
With elections in 72 assembly constituencies of Chhattisgarh are scheduled for polling on November 19, politics over rice could be an important factor for both the BJP and fraction-ridden Congress.
Villagers in this poll-bound state express satisfaction over the BJP government public distribution scheme and state food security act aimed at providing subsidised food items to poor. "Most people of Chhattisgarh are tribal. The BJP government has been providing rice at an affordable price to all. It is a good step," said Nankiram Sahu, a rice mill worker.
The Congress is also advertising benefits to people under National Food Security Act.
Chhattisgarh rice mills association, however, demands policy change to ensure the state gets its due in nation contribution for rice. "Our rice is often being rejected by the Food Corporation of India on small grounds. At times they say the quality of 'dhaan' (which gives rice after processed through industries) is not good and give preference to other.
"Whether the BJP wins or the Congress, they must take necessary correctional steps to stop loss to farmers over non-procurement and export of Chhattisgarh rice to other states and abroad," said Raj Kumar Agrawal, President of Bilaspur Rice Mills association.
His claims were, however, contradicted by state government officers involved in procurement of rice. "We buy rice of almost all farmers and provide minimum support price and bonuses to them for good harvest," a state government official said requesting anonymity citing code of conduct due to assembly elections.
According to the latest central government data of rice production, Chhattisgarh was seventh largest contributor of rice in the country.
West Bengal was highest with 14.6 million tones production followed by Uttar Pradesh with 14.02 million tonnes, Andhra Pradesh with 12.89 million tonnes, Punjab with 10.54 million tonnes, Tamil Nadu with 7.45 million tonnes, Bihar with 7.16 million tonnes and Chhattisgarh with 6.02 million tonnes during 2011-12, the data said. India has recorded 105.37 million tonnes of rice production during 2011-12.

Image: A farmer spreads pesticide in his paddy field

Photograph: Amit Dave/Reuters