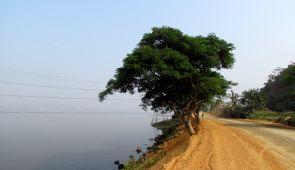 On the way to the airport in Guwahati, Assam, there is a sprawling water body known as Deepar Beel (natural wetland). This is no ordinary wetland but a Ramsar site.
However, this wetland is facing danger because of unregulated human activities like illegal construction and fishing within and outside it, and unabated heavy siltation. This big wetland holds the key to the health of the eco-system in greater Guwahati area.
According to noted conservation expert Dr P C Bhattacharrya, Deepar Beel plays a vital role in sheltering numerous species water birds of residential and migratory nature. Beel has a perennial water-holding area of about 10.1 sq km, which extends up to 40.1 sq km during floods. The depth increases up to four meter and drops to one meter during winter.


This large water body is not only a source of food and breeding ground for a large variety of aquatic birds, but also an abode of amphibians, reptiles, insects, macrophytes, terrestrial weeds, lianas and tree species of ecological and economic importance.


Assam government declared 10.1 sq km area of Deepar Beel as the 'Deepar Beel Wildlife Sanctuary' in 1989. It was also proposed that the 4.1 sq km core area be esignated a 'Bird Sanctuary' given that about 122 species of seasonal, migratory and residential birds visit the wetland every year.


Taking note of the immense importance of the wetland, Deepar Beel was enlisted in Asian Wetland Directory and also declared a Ramsar site in 2002. Yet, the water body has not received attention at the desired level from the authority. Its precious biological wealth is getting depleted due to ever growing human interferences. With land becoming scarce in and around Guwahati, people have started encroaching upon Deepar Beel.


The area is not well protected and there is no enforcement of strict laws meant for wildlife protection. Regular fishing both in the buffer and core zones also contributes to the degradation of the wetland.


On the occasion of International Day for Biological Diversity with the theme of Water and Biodiversiy, Assam government was on Wednesday urged by a premier nature conservation organisation Aaranyak, recognised as Scientific and Industrial Research Organisation to take urgent action to save Deepar Beel from further degradation.