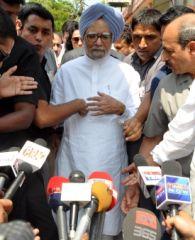 Prime Minister Manmohan Singh, the Congress Rajya Sabha candidate from Assam, has filed a fresh affidavit correcting his age to 80 prior to scrutiny of the nominations on Tuesday.
The prime minister submitted the fresh affidavit two days ago correcting his age to 80 from 82 as given earlier in his nomination papers for the May 30 election, Assembly sources said.
As per rule, there was time till Monday for contestants to submit affidavits for making corrections in their nomination papers, they said.
The prime minister had filed his nomination papers on May 15 at the state Assembly before the Assembly Principal Secretary G P Das, who is also the Returning officer for the Rajya Sabha elections.
May 23 is the last date of withdrawal of candidatures.