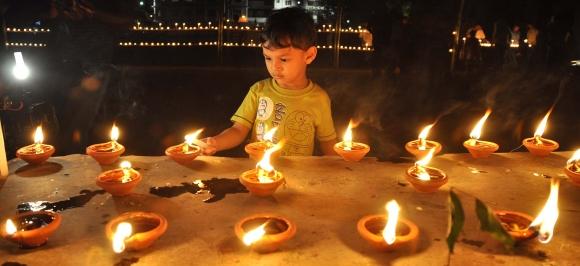 Thousands across Assam on Tuesday paid a tearful homage to those who lost their lives in the serial blasts that had rocked the state on October 30, 2008.
Ninety people were killed and over 540 were injured when nine serial blasts ripped through four places in the state -- Guwahati, Kokrajhar, Bongaigaon and Barpeta Road -- on that 'black friday'.
Thousands of people gathered at the blast sites to pay tribute to those killed in the serial  blasts. They also condemned the failure of the government to hand out exemplary punishment to those involved in the gruesome terror attack.
While thousands of people paid floral tributes at the sites, nearly fifty noted artists from the state participated in the event to condemn terror and hope for peace in Assam.
Speaking on the occasion, Chief Minister Tarun Gogoi admitted that terrorism has taken a heavy toll on the people of Assam.
"Terrorism hardly solves any problem. It has brought darkness to the state," he said.
"We have managed to contain terror in the state to a great extent, but much remains to be done. Those who are indulging in violence should abjure it and join the mainstream. The state government will continue to deal with terror-mongers with an iron hand," he said.
"The sympathy of the common people to insurgents has decreased drastically because of the heinous and dastardly acts of terror over the years. As a result, terrorism too is on the wane in the state," Gogoi asserted.
The Central Bureau of Investigation, which investigated the serial terror case, found that the Bodo terror outfit National Democratic Front of Bodoland, led by Ranjan Daimary, was involved in the blasts. Daimary was named the prime accused in the case while 21 others were also charge-sheeted.
Of the 21 accused, seven are absconding and Interpol's Red Corner alerts have been issued against five of them.
Ranjan Daimary is currently behind bars in Assam after he was arrested in Bangladesh over two years ago. The NDFB faction led by Daimary is now waiting for its dialogue with the central government.