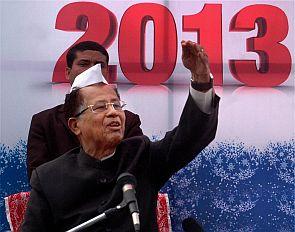 The rebel members of Legislative Assembly of the ruling Congress in Assam on Saturday apparently failed to cause much discomfort for veteran Tarun Gogoi, the chief minister, in the special sitting of the legislature party. At the end Gogoi came out victorious with all the MLAs promising to try winning all the 14 Lok Sabha seats for the party in Assam in the next general election.
The group of 35 odd dissident MLAs demanded the special sitting of the Congress Legislature Party to air their grievances basically over sluggish pace of development activities in their respective constituencies because of 'indifferent' attitude of some of the ministers in Gogoi's cabinet.
The CLP meeting was expected to generate some heat as the rebel MLAs were going to demand dropping of some of the ministers. However, a seasoned politicians as he is, Gogoi kept his cool and remained totally in command of the situation.
The meeting of the ruling Congress party MLAs finally agreed to focus more on winning more seats in the forthcoming Lok Sabha election after Gogoi had assured the MLAs to take all possible steps to expedite the development process. Gogoi also assured that he would look into all grievances put forward by the party MLAs.
State Health and Education minister Dr Himanta Biswa Sharma who has been in the eye of a storm for backing the rebellion within the CLP, briefing media persons at the end of the CLP meeting, said, "All the legislators were given opportunity to speak and they submitted before the CM their problems and grievances. The discussions were held in an amiable atmosphere and all concerns raised were duly noted."
He said the CM, speaking at the end, assured that he would take all steps to 'further accelerate' development process in the constituencies of the legislators and the ministers would also assist to that end.
"The CLP underscored the need to concentrate on winning all 14 seats in the coming Lok Sabha elections. We will work united towards that end," Dr Sharma said. Assam Pradesh Congress Committee president Bhubaneswar Kalita, who attended the CLP as a special invitee, said the issue of changing some of the ministers was also raised by some legislators at the meet.
"The decision to make any change in the ministry rests with the CM. There was no demand for any change but if any changes are to be made, it will be the CM's decision," he said.
"Our mission is to win the maximum 14 Lok Sabha seats from the state and we will work for it," he added.
The CLP meeting was held at a crucial juncture when dissidence within the ruling party has come out in the open with some of the rebel MLAs airing their grievance in public against some of the ministers in Gogoi's ministry.