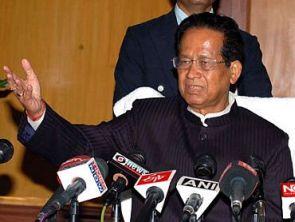 Encouraged by the decision of the All India Congress Committee to appoint two of his trusted lieutenants as secretaries, Assam Chief Minister Tarun Gogoi will now get tough on dissident Congress MLAs in the state.
Gagoi has hailed the AICC's decision to appoint Bhupen Bora and Rana Goswami as AICC secretaries. Gogoi also lauded the appointment of Dr C P Joshi as AICC in-charge of Assam replacing Digvijaya Singh.
The AICC's decision is a blessing for Gogoi as Digvijaya Singh was a favourite with the dissident MLAs.


Gogoi has maintained that it was State Health and Education Minister Dr Himanta Biswa Sarma who was behind the dissidence. Gogoi said Dr Sarma was fomenting dissidence to fulfill his desire to become chief minister.
Gogoi said that Dr Sarma had to listen to his orders as long as he remained minister under him.
Gogoi said that some party MLAs who give bites to TV channels against him during the day come to him at dusk to express solidarity.


Meanwhile, stung by the comment of Gogoi, Dr Sarma said he was not after the post of chief minister or pursuing any personal ambition. He said his only goal was to strengthen the party in Assam. Dr Sarma said he would always remain loyal to the Congress and no one would be able to provoke him to leave the party in a huff.


Dr Sarma had in the past stirred the hornet's nest by saying that like many other Congress leaders he too dreamt of becoming chief minister of the state someday. He made the comment after the Congress came back to power in the state for the third consecutive term under the leadership of Tarun Gogoi.