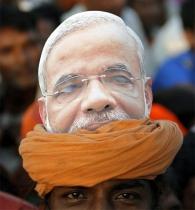 Gujarat Chief Minister Narendra Modi is not a threat to the Congress-led United Progressive Alliance but a threat to the Bharatiya Janata Party led-National Democratic Alliance itself, as proved by the developments following his elevation as the BJP poll panel chief, his Assam counterpart Tarun Gogoi said on Saturday.
"Modi is not a threat to the UPA. Modi is a threat to NDA itself," he said, referring to incidents affecting the BJP-led alliance after Modi was made the head of the BJP's national election campaign.
Accusing the BJP of forcing it to walk out of the alliance by not being forthcoming on Modi's future role, key NDA ally Janata Dal - United said the announcement of a split in the coalition is a "mere formality".
Earlier this week, BJP patriarch L K Advani had resigned from key party posts to protest Modi's elevation to the national role, but later decided to continue after Rashtriya Swyamsevak Sangh chief Mohan Bhagwat persuaded him to stay back.
Gogoi, who was addressing a press conference, expressed his optimism about Congress's victory in the forthcoming Guwahati Municipal Corporation election next week.
He compared the two major Opposition parties in the state -- the BJP and the Asom Gana Parishad -- with the scam-tainted defunct Saradha Group.
"I compare both BJP and AGP with the Saradha Group. The group promised to deliver higher returns with their chit funds, but did not do that. Similarly, BJP and AGP promise to deliver to the public, but never do so," he said.
Citing examples of the then NDA government's 'India Shining' campaign, he claimed that nothing good happened to the country during its rule.
"The BJP also promises that if people vote for them, they will build the Ram temple and when it will be built, there will be no problem in the country," Gogoi said.