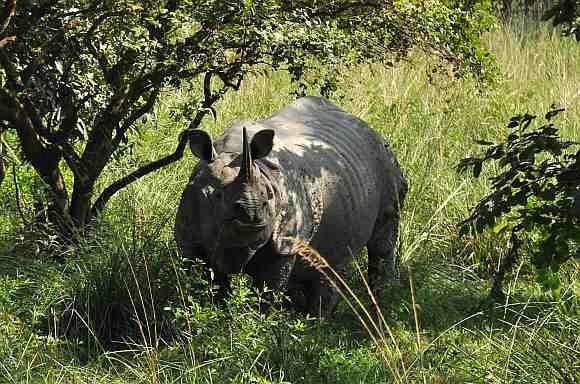 One more full-grown one-horn rhinoceros was shot dead by poachers at the Kaziranga National Park on Sunday night and with its horn removed, away triggering fresh public protests against the unabated poaching in the national park.
Park officials informed that an adult female rhino was shot dead and its horn was cut away from BagoriRange of the park on Sunday night. With this incident of poaching, the number of precious rhinos poached in KazirangaPark, which is a UNESCO World Heritage Site, so far this year has gone up to 33
The poaching of the rhino on Monday triggered a massive public protest in a fringe area of park where protestors severely criticised the state government, especially Forest Minister Rakibul Hussain for failing to protect the rhino that is considered the pride of Assam.
A large number of women from fringe area of the park took part in the protest. The Assam government with permission from the Central government has already amended the Wildlife Protection Act to enhance the maximum punishment to poachers to life imprisonment.
Wildlife offences have been made non-bailable and cognisable. Under the provisions of Section 197 CrPC, forest officers and staff have been granted immunity from prosecution without prior sanction from the government so that they can go all out against poachers on the prowl.
Moreover, forest staff manning the wild life sanctuaries in the State especiallythe Kaziranga Park has been provided with SLRs replacing the age-old .303 rifles. Still, rhino poaching could hardly be checked in Kaziranga.
The state government claims that about 300 well-armed poachers are on the prowl in the vicinity of KazirangPark and that many of the poachers are even armed with AK series assault rifles.
Poachers have not spared all other protected rhino habitats in the state, the Pobitora Wildlife Sanctuary, the ManasNational Park (another UNESCO Heritage Site) and the RajivGandhiOrang National Park in Assam exposing the failure of the state forest department to adequately protect the treasure trove of rhino population in the state.
Meanwhile, a senior forest official deployed in one of the rhino habitat informed that forest officials have found it extremely difficult to maintain the network of fringe village informers on poachers' movement because of paucity of funds.
Though it is extremely important to maintain a well-coordinated network on informers to receive real time intelligence inputs on poacher gangs, the state government has not made any budgetary provision for providing fund for the purpose.