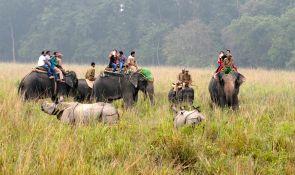 Wildlife enthusiasts and nature lovers have started flocking to Assam's two principal habitats of one-horned rhinoceros, Kaziranga National Park and Pabitora Wildlife sanctuary, which have been declared open for tourists for the winter till April-end.
Park authorities have found it tough to accommodate visitors in government lodges and guest houses in view of the unprecedented rush of tourists from abroad and within the country to Kaziranga National Park, a UNESCO World Heritage Site.

Fares for elephant safari and jeep safari have been hiked steeply. The increased rates for jeep safari for Kohora Range of the park is Rs 1,500, while the rate is Rs 1,600, Rs 2,500 and Rs 2,000 for Bagori, Burapahar and Agoratoli ranges, according to an official in Kaziranga Jeep Safari association. One jeep safari can accommodate six visitors accompanied by one forest guard.

The rate for elephant rides in Kaziranga Park has been increased by Rs 50 per head for Indian tourists and by Rs 525 per head for foreign tourists.

State Forest Minister Rakibul Hussain declared both Kaziranga and Pabitora parks open for visitors in presence of a large number of foreign and domestic tourists.

Located just about 45 kilometres away from the heart of Guwahati city, Pabitora Wildlife Sanctuary is known to have the highest density of great Indian one-horned rhinoceros.
Rhino population in the sanctuary has gone up from 54 in 1987 to 93 in 2012.
Pobitora recorded zero poaching from 2007-10 with only one rhino falling prey to poachers last year and one this year. The tourist inflow to the sanctuary has increased from 8,993 in 2006-07 to 18,779 in 2011-12.
The 38.81 sq km PobitoraPark was declared a wildlife sanctuary in 1998 and was brought under Guwahati Wildlife Division in 2006.
Besides the one-horned rhinoceros, both Kaziranga and Pabitora parks has variety of migratory birds that visit the wetlands inside the wildlife protection areas to feast on the aquatic species including varieties of fishes.
As per the rhino census carried out in March this year in Kaziranga National Park, it was found that the number of one-horned rhinos in the Park increased to 2,329 compared to the figure of 2,290 as per last year's (2012) census.