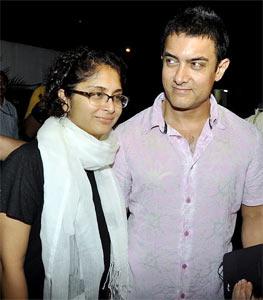 Aamir Khan has picked Assam to celebrate his wife Kiran Rao's 40th birthday on November 7.

The couple are currently staying in the Wild Maseer resort at Balipara, in the picturesque Sonitpur district of Assam. They are accompanied by their toddler son Azad and close friends.

"It has always been in my mind to visit Assam and enjoy time with its people," said Aamir. "We have come here to celebrate the birthday of my wife Kiran. We will be staying for seven days, visiting different destinations including
the Kaziranga National Park. I will like to meet the people of Assam and know about their life and culture."
Khan and his entourage visited a Mising tribe village earlier today to get a feel of the place.
When asked if he was planning to shoot a film on the enchanting Kaziranga National Park, Aamir said, "There is no such plan in my mind. I have just come to spend time in Assam, meet and enjoy company of people of Assam."
Because of the negative publicity Assam gets due to violence related to insurgency, very few high-profile people, barring politicians, show interest in this state.
In the picture: Kiran Rao and Aamir Khan. Photograph: Pradeep Bandekar